Monster Hunter X getting Mega Man collaboration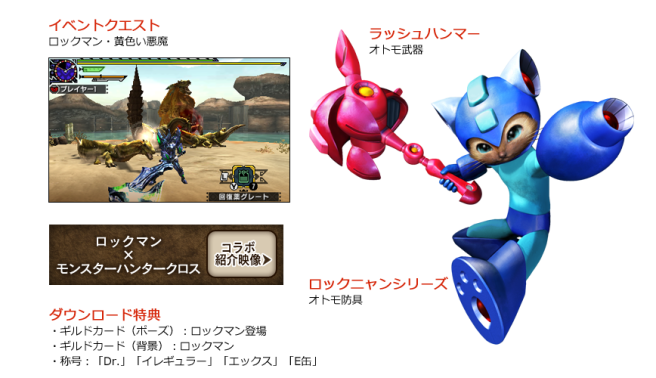 Monster Hunter X has been receiving a whole slew of collaborations. And even though the game has been available in Japan for a few months, there are still new ones being added. Capcom announced another collaboration today involving Mega Man (Rockman in Japan) similar to Monster Hunter 4 Ultimate.
New Mega Man collaboration content for Monster Hunter X is due out on February 25, the same day as Mega Man Legacy Collection in Japan. Here's the lowdown:
Overview
Event Quest – Rockman: The Yellow Devil
Palico Weapon – Rush Hammer
Palico Armor – Rocknyan Series
Download Bonuses
– Guild Card (Pose): Rockman Appears
– Guild Card (Background): Rockman
– Titles: "Dr." "Irregular (Maverick)", "X", "E-can"
View a trailer for the Mega Man collaboration in Monster Hunter X below.
Leave a Reply