New Hyrule Warriors Legends details – Linkle's story and crossbows, new weapons, more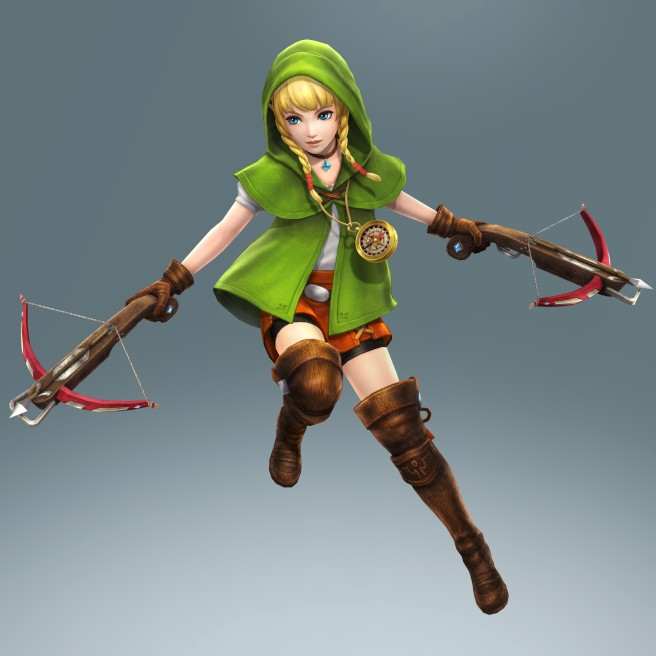 A few days ago, the Japanese Hyrule Warriors Legends Twitter account teased more news for the game. Famitsu has come through with a four-page report on the title.
First, a note about stages. With the introduction of the new Wind Waker episode, the stages themselves will have a slight change in atmosphere that players can look forward to. As an example, Lake Hylia has an evening scene added. Valley of Seers also has a blue sky again due to being liberated from Cia's magic.
It's also important to clarify what's exclusive in Hyrule Warriors Legends. Once again, all characters will be available in the 3DS game as well as the original Wii U title. But the Wind Waker and Linkle stories will be exclusive to Hyrule Warriors Legends.
On the topic of Linkle, Famitsu has more details about the brand new character. She keeps an important compass with her that's been passed down since ancient times. Described as a bright and free-spirited young girl, she travels around in order to save those in need, aiming to be like the heroes of Hyrule.
Hyrule Warriors Legends will contain a new story featuring Linkle. In it, she's on a journey to Hyrule Castle with the aforementioned compass. It's said to be a behind-the-scenes story. Other characters such as Midna (in her true form), Skull Kid, and more will appear as playable characters as well. Famitsu wonders how Linkle's expansive adventure will tie into the main story.
Linkle was a concept of a "female version of Link", and was already considered during development. Her popularity exploded from the designs seen in the art book, and was implemented due to fan wishes.
As previously mentioned, Linkle uses a pair of crossbows. She can attack in midair or while moving. Between the two, she's able to deal great damage. Linkle can send enemies flying with enough speedy attacks, and a follow up attack can cause an explosion (with bomb arrows). Players can learn about all the different types of arrows at her arsenal.
Midna can be returned to her beautiful true form by freeing her from her curse. She holds a sacred mirror left behind by the gods. Midna summons beings from both the worlds of light and shadow for support.
Finally, characters will be receiving new weapons in the game. Famitsu shows us a new trident for Ganondorf, which is a three-headed spear. This is capable of unleashing rapid attacks and ranged lightning attacks. Based on what's shown in Famitsu, it seems that these new weapons will be offered in Hyrule Warriors on Wii U, too.
Leave a Reply