Project X Zone 2 devs on development, story, improvements, and surprises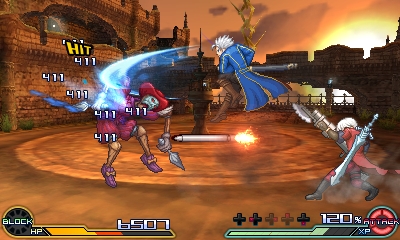 Update: Fixed first names for Morizumi and Ishitani.
---
Bandai Namco officially unveiled Project X Zone 2 last week. After the announcement, Famitsu caught up with a few of the game's developers for an interview. The magazine spoke with Kensuke Tsukanaka (producer, Bandai Namco), Souichiro Morizumi (Monolith Soft, development director), and Koji Ishitani (development producer, Monolith Soft).
Famitsu starts by asking when development on Project X Zone 2 kicked off. According to Morizumi, the team was "considering the project and playing new entries of featured games" after Project X Zone's Japanese launch. Work truly began after the team received feedback from the western release in 2013.
Tsukanaka also said, "The release had very good reputation in North America and Europe. So given the situation both domestically and overseas, we started to create the sequel."
Famitsu next talks about Project X Zone's positive reaction overseas. Tsukanaka said in response that "the Japanese fans are considered when making the sequel, but we also want to create content which makes overseas fans happy."
On the topic of story, Morizumi commented:
The previous game was like a road movie with rapidly changing maps, but we received opinions like "I want companions' episodes to unfold without rushing". In this game, the story is deeper so please look forward to that.
Famitsu also asks about the opinions the team received from users who played the first Project X Zone. As said by Ishitani:
We received lots of opinions relating to things that affect the gameplay, like the number of enemies in one map and growth elements other than level ups. On the basis of those comments, we are rebuilding the gameplay for this game by adding new elements and improving the old ones in game rules and the system. We are also making the visuals of battle scenes, etc. easier to understand.
Morizumi also mentions that 14 featured games have been announced for Project X Zone. "Those haven't changed much compared to the last game so while we kept the staples, we also added new entries," he added.
Continuing on his comments, Morizumi said:
By the way, I think there will be surprising announcements in the future, when you think like "Huh? This character from that game!?" I guess the expected and unexpected are neatly mixed (laughs).
Project X Zone 2 launches worldwide this fall. Development is 60 percent complete.
Leave a Reply