Vicarious Visions considered Princess Peach, Kirby, Star Fox for Skylanders SuperChargers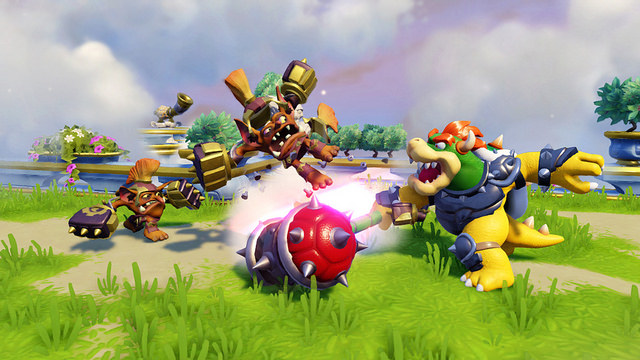 Donkey Kong and Bowser are both included in Skylanders SuperChargers. But interestingly enough, a few other Nintendo characters were considered for the game.
One idea developer Vicarious Visions had was to make a Warrior Princess Peach with a sword. However, Nintendo didn't approve the idea because that would have been out of character, and all Super Mario Bros. hero characters were off limits.
Kirby was also considered to be a potential character in Skylanders SuperChargers. He would have been able to suck up enemies and bounce around the screen. Since Kirby is partially owned by HAL Laboratory, he couldn't be licensed out to Activision.
Star Fox was yet another Nintendo character that Vicarious Visions thought about including. He didn't make it in, however – perhaps so that the Big N could keep the focus on its own title, Star Fox Zero.
Skylanders SuperChargers and its Skylanders SuperChargers Racing equivalent for 3DS and Wii will release on September 20. You'll find development details about Bowser and Donkey Kong in the game below.
– Thought about making two new Elements for Bowser and Donkey Kong
– Donkey Kong would have been in the Bananas Element
– This direction didn't seem to fit next to the other elements, and it wouldn't have made sense to continue with into the future outside of DK's family members
– For Donkey Kong, there was exploration into the idea that Diddy Kong would be a companion character and follow DK around all the time
– Diddy always being on-screen when DK was would have taken away from the emphasis on Donkey Kong and his toy
– Because of this, Diddy was relegated to vehicle mode only
– This leaves the option for him to appear as a Skylanders amiibo in the future
– The team faced challenges adjusting Donkey Kong's color for the Dark Edition
– The character design team came up with a Donkey Kong racing jacket that was easy to flip colors to a darker palette
– They also darkened DK's fur
– Donkey Kong and Bowser have upgrade paths the same as any other Skylanders SuperChargers character
– The team initially pitched a conservative move set for the guest stars fearing Nintendo wouldn't want berserk moves coming from their characters
– Rather than simply go along with Vicarious Visions' cautious approach, Nintendo countered and asked them to push the envelope and get creative
Leave a Reply