2K explains why BioShock, Borderlands, XCOM 2 collections hitting Switch on same day; wants to continue supporting the system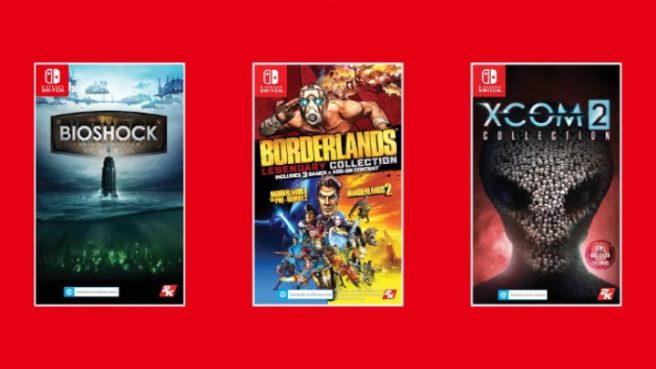 2K has a number of big ports lined up for Switch next week. BioShock: The Collection, Borderlands Legendary Collection, and XCOM 2 Collection are all slated for May 29.
Back in March, 2K announced the ports in a Nintendo Direct Mini. The news was put together in a neat little video with the message that "2K ♡ Switch". In an interview with Famitsu, 2K chief creative Sami Thessman spoke more about the campaign and Switch support.
When asked about the marketing message, Sami said their approach was "less is more". Using a heart symbol was intentional to make it look fresh and exciting.
Thessman said:
"Our concepts for the game icons were inspired by Nintendo visuals. We wanted to go this route so they'd feel right at home, design and atmosphere-wise, to Nintendo fans."
Famitsu also asked if things unintentionally ended up overlapping during development, or if these releases were deliberately planned. Thessman explained in response:
"Well, we've had a huge demand for these games on Switch for some time now, so it was actually because we felt bad that we've kept everyone waiting this long. In announcing and releasing all these games at the same time, we were able to pull this necessary partnership together even more effectively and really establish it. We didn't necessarily have some kind of marketing goal or something like that in mind, but I'm sure it wasn't just a happy coincidence either."
Towards the end of the interview, Thessman had some promising words for the future. Though there's nothing to announce, 2K hopes to "keep releasing games for Nintendo Switch moving forward."
Thessman's full words:
"I can't tell you all about our business strategies, but what I can say is we at 2K consider our relationship with Nintendo to be extremely important. We really want to keep releasing games for Nintendo Switch moving forward."
Leave a Reply