[Interview] Gust on ending Ryza's journey with Atelier Ryza 3, open field, future, more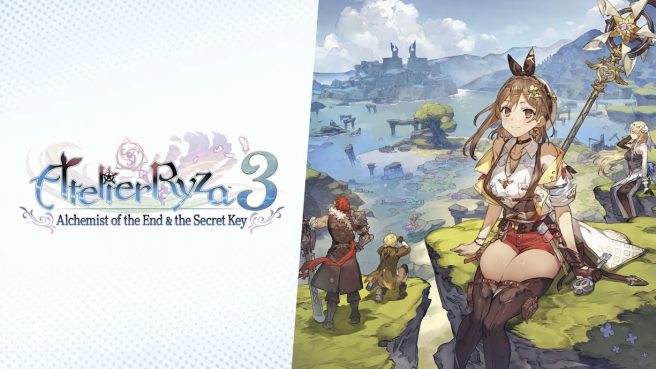 Nintendo Everything was recently given the opportunity to interview Junzo Hosoi, the head of Gust, about Atelier Ryza 3: Alchemist of the End & the Secret Key. The RPG just launched on Switch this week, marking the end of Reisalin "Ryza" Stout's story.
We discussed a variety of topics, including the conclusion of the trilogy, implementing open fields, the possibility of an English dub for the series, future of the franchise, and more. You can read our full discussion below.
Many fans started their Atelier journey with the Ryza games and have grown attached to the character. Given her popularity, was it a difficult decision to make this game her final chapter?
When we began drafting the idea for the Secret series, I wanted to create not only a story what followed the growth of a single protagonist, but to make it a trilogy if possible. So in the end, it was at we had intended from the start. However, whether it actually became a two-part series or would continue as a trilogy was something we thought to decide upon only after seeing the players' reactions to the game, so it really is thanks to the fans support that we were able to show Ryza's final story.
What was behind the decision to make this game more open than ever before? How challenging was it for the development team to include the open field? With this game being as open as it is, does Gust have any interest in making a completely open world Atelier game in the future?
When thinking about "what makes an RPG fun," "what makes the Atelier series fun," "what makes the Secret series fun and pleasant," one of the answers we came up with is the open field. For us, our definition of an open world is something that can enjoyed from any angle and is a fully 360-degree experience. In the Atelier series, activities such as gathering are main aspects, so from the point of view of gathering materials as it currently is in the game, we thought that it isn't quite suited for an open world. Also, to have players really feel that "Ryza is on an adventure," we decided to use the map configuration of an "open field" where many smaller maps are connectedly seamlessly to become a single large region. As players progress through the field, I think they'll get excited at the prospect of wondering what's up ahead, or encountering items or enemies they're never seen before as they head into a new map. We were really conscious of having this very RPG-like appeal of adventure, and feeling the thrill when reaching a location up ahead.
We also have several gimmicks to help players advance comfortably through the maps, such as fast travel, beasts players can ride and ziplines, but we'd also like players to feel that first moment they can walk around and immerse themselves in the open field, one of the enjoyments of the game. And since the terrain of the maps are connected, it lets player visualize in their heads what the map looks like, which is something that we wanted to create. Also, being able to move to the next map without any loading time is undeniably less stressful, so by making it an open field, we thought we could take it one step higher in the gameplay experience. We did have experience from other titles so we didn't have zero experience in creating vast maps or seamless transitions, but the size and volume of it was the biggest in the history of the series, so the dev team members did struggle a lot with it.
For future titles, whether they'll be open field or open world, or even a brawler is still unknown, but we want to respond to everyone's expectations, so I think that we will make the better selection or consideration based on what would make a better game experience for each particular title.
Atelier Ryza 2 felt like it made a number of improvements over the previous game. What sort of improvements can fans look forward to in Atelier Ryza 3?
I think that doing as much as possible to not impede the tempo of gameplay is the biggest improvement of the game. With the open field, the loading times between maps have pretty much disappeared, and the battles begin seamlessly. We've also reduced the tutorial events as much as possible and instead made it so that they can be referenced any time, and one of the smaller aspects is that when players return to the Atelier, items will be automatically saved.
Koei Tecmo held a survey earlier this year about Atelier Sophie 2, and a question was included regarding fan interest in English voices. Is there a possibility that the series could receive an English dub again in the future?
If there are a lot of requests, I think that it remains a possibility. We look forward to hearing from everyone!
If given the chance, is there a certain Atelier game you'd be interested in remaking (note: question was asked before Atelier Marie Remake was announced)?
Recently we announced Atelier Marie Remake: The Alchemist of Salburg, which is the third title in our Atelier Series 25th Anniversary commemorative titles. I'd be interested in asking everyone what titles they'd like to play.
When we spoke to you in 2019 in 2020, you mentioned that sales of the Atelier games on Switch had been increasing with each successful title. Has that still been the case with the more recent games? How do you feel about Atelier being on Switch overall?
For us, we want to have as many people as possible be able to play our games, so we aim to create games that can be enjoyed on any platform. The sales of the Switch versions continue to grow, but as the series progresses we feel that there is an increase in the number of people who say "I know about the Atelier series!" or "I know Ryza!" not just from Switch players but other platforms as well. We are thankful for this.
What can fans expect from the future of the Atelier franchise? Is there something that you'd personally like to implement down the road?
I'd like to make the Atelier series IP even bigger. In order to do so, I think we need to refine our expressive techniques. I hope we can work hard on it so that everyone will feel surprised at what they see.
Atelier Ryza 3: Alchemist of the End & the Secret Key is currently available on Switch.
Leave a Reply