Capcom on how Mega Man X Legacy Collection 1+2 came to be, new features, more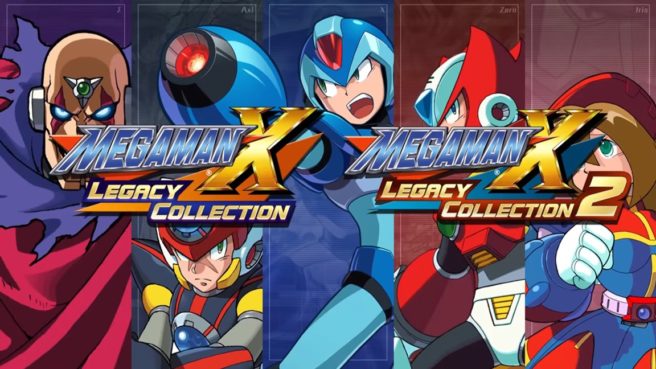 Capcom offered the latest coverage on Mega Man X Legacy Collection 1+2 this week. The company provided the latest details about X Challenge in particular, including some new armor for Mega Man.
Japanese magazine Famitsu also posted an interview with producer Kazuhiro Tsuchiya. Tsuchiya spoke about bringing back the Mega Man X games in the new collections, what's new, and more.
Here's the full discussion:
Famitsu: The Mega Man X series is reaching its 25th anniversary this year. We'd like to hear about your fond memories.
Tsuchiya: When I saw X for the first time, I was moved, like "What is this cool Mega Man?" Since we moved to SNES, not only the images became prettier, but new actions like dashing and wall-kicking were also added, so a new good point different from [the original] Mega Man was pursued, which left a vivid impression to me.
Famitsu: Indeed, we felt that the way to play it wasn't in the [original] Mega Man.
Tsuchiya: Many of the people who played the Mega Man X series in real time back then had it as their most favorite game, and personally I also think it's a title that represents the golden age of action games. Also, while respecting the identity of the original Mega Man, X is also being loved by people around the world as the one more Mega Man; that's also a great point of Mega Man X series.
Famitsu: How were the details on the production of MMX Legacy Collection getting set in stone in the first place?
Tsuchiya: In the Mega Man 30th anniversary milestone, we wanted to not only make the 11th Mega Man, but also to seriously revive Mega Man as a brand. Mega Man X has fans around the world just like the original, and he's having his 25th anniversary this year. In order to make Mega Man X–which was considered a masterpiece–playable in the modern era, we need to revive the brand. And if we miss this opportunity, there might be no chance for Mega Man X to go through his 30th anniversary. With such a reason, we decided to release it on the timing of his 25th anniversary.
Famitsu: What kind of new features are added there?
Tsuchiya: The Museum Mode includes illustrations, BGMs, The Day of Sigma anime which was included in the PlayStation Portable game Mega Man – Maverick Hunter X, a goods catalog where you can check out Mega Man X toys, past promotion trailers and more.
Famitsu: We're getting so excited (laughs). We're especially interested in the goods catalog!
Tsuchiya: For the goods catalog, Bandai helped us fully, as their staff created the catalog by taking photos of the legacy toys sleeping in the warehouse one by one.
Famitsu: We want to look at them while reminiscing about the past.
Tsuchiya: The staff made them while really taking into mind [the feel] of playing it with having memories of each generation. I think the appeal of Mega Man X Legacy Collection is not just on the main games, but also on tracing back the past memories with past promotion trailers and toys.
Famitsu: We want to see them soon. Other than the Museum Mode, what kind of new features are there?
Tsuchiya: For the 2D games from Mega Man X1 to Mega Man X6, we've prepared 3 different screen filters for the original, a smoother version, and a CRT monitor version. For the 3D games Mega Man X7 and Mega Man X8 we enhanced the graphics by turning them into high resolution.
Famitsu: Why did you turn Mega Man X7 and Mega Man X8 to high resolution?
Tsuchiya: If you display the 2D game dots pixel-by-pixel in current large TVs, that's still cool by itself. But if we just stretch 3D games with standard resolution, the video would be blurred. I felt "This is distressing!" when I look at it, so I thought we had to turn them to high resolution even if it took more work and costs.
Famitsu: As a developer that may be hectic, but as a fan we are glad.
Tsuchiya: I heard from the development staff that "The original modeling was done carefully, so we were able to apply high resolution without feeling off. We think we can show the screen with confidence."
Famitsu: We must anticipate that. Does this game have a mode like the Time Attack in Mega Man Legacy Collection?
Tsuchiya: We added a mode named X Challenge which has a different opening from Mega Man Legacy Collection's Time Attack. This has a crossover of bosses from each series where they form tag teams to confront X. You have to fight 2 bosses simultaneously, so we made the content to be extremely challenging.
Famitsu: By the way, is there a difficulty level setting?
Tsuchiya: There is. Easy mode has support features like halving received damage and reviving on the spot when you made a mistake [TN: died].
Famitsu: We're looking forward to the release from now on! And finally, please leave a message for fans of Mega Man X series.
Tsuchiya: Actually we once released Mega Man X Collection, which had X1 to X6, in overseas. It didn't get released in Japan, and at that time we made the [Japanese] fans disappointed.
However, Mega Man X Legacy Collection is the current compilation, and it's filled with various features to mark the 25th anniversary. We finished up the content that it should even blow away the dissatisfactions of Mega Man X Collection.
I think this should also have a documentary value to feel the evolution of Mega Man X as a game. Please kindly use this opportunity to check out the Mega Man X series which has been loved by many people.
Thanks to BlackKite for passing along this translation!
Leave a Reply