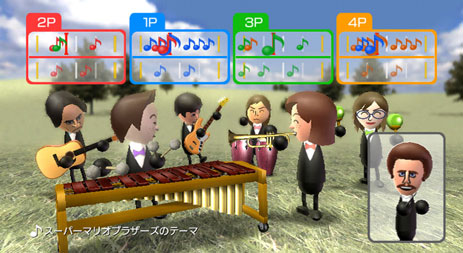 The next awaited addition to the Wii's casual library will be none other than Wii Music. We haven't heard a ton of information about the game, except for bits and pieces here and there. Though, one pretty big feature that may end up in Wii Music might be the inclusion of the balance board functionality. According to RevoGamer, Wii Music will use the balance board to simulate a drum pedal. Those who were interested in double Wiimote usage for the drums needn't be worried, however, as that controller configuration will be available as well. RevoGamer also noted that a 2008 release for the game seems to be realistic.
Further information about Wii Music is likely to be discussed at this year's E3.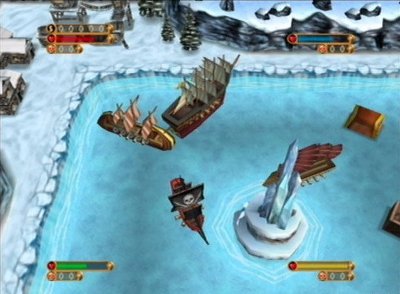 – Three modes: Story mode, skirmish mode multiplayer mode
– Story Mode: Take control of navy captain he is incognito trying to obtain the "The Key of Dreams". Run after Blackbeard to get the artifact from him
– Ability to recruit lookouts, navigators and gunners
– Weapons include sea mines, rockets, flame cannons, and cannons
– Skirmish mode: 35 small stages, can fight up to 3 opponents
– Multiplayer mode: 2-4 players, number of ships can be chosen


VC titles
NES game
Sky Kid
1-2 players
500 Wii points
19 blocks (1 save block) [19 needed]
No Re-Releases
WiiWare titles
Critter Round-Up
1-4 players
1000 Wii points
[235 needed]
Star Soldier R
1 player
800 Wii points
145 blocks (1 save block) [145 needed]
Nintendo Wi-Fi Connection


Videos
Who's Playing Wii Fit: vol. 2
Wii Fit TV Commerical 1
Star Soldier R trailer
Critter Round-Up Introductory Trailer
Liv Tyler Plays Brain Age 2
Carrie Underwood Plays Nintendogs
Carrie Underwood: Behind the Scenes
Myst Game Play Trailer
Digest Video
Demos
The DS demos are actually the same as from two weeks ago, so no new demos are available.


"We think it's a real shame that publishers and developers aren't taking advantage of the technical possibilities of the Wii platform. Most Wii games don't even look as good as the later day PS2 titles and that's a real slap in the face to consumers. We believe that third-party developers need to step up to the plate and deliver. The Wii platform is capable of a lot more than what consumers have seen so far. We're hoping to raise a new bar." Incendiary words indeed, and Ganofsky takes it one step further by stating "Most of the games on the Wii look like crap [and] we want to change that" – CEO and founder of High Voltage Software, Kerry Ganofsky
To some extent, I do agree with Ganofsky's words. Most third-party titles, and even some first-party titles look abysmal. Developers really need to try to tap in to the Wii's graphical power. And the Wii can produce some amazing eye-candy – Just look at Super Mario Galaxy.
Source


WiiWare
Critter Round-Up, Star Soldier R
Virtual Console
Skykid
Today begins a new phase for the Wii-kly Update. From now on, we'll have all the information about the arrival of both WiiWare™ and Virtual Console™ games. So basically you're getting access to the best games of the past and the coolest creations of the present. With this week's releases you can blast space-based enemies with your starfighter, fly the not-always-friendly skies or even corral some cute critters in the barnyard.

Nintendo adds new and classic games to the Wii Shop Channel at 9 a.m. Pacific time every Monday. Wii™ owners with a high-speed Internet connection can redeem Wii Points™ to download the games. Wii Points can be purchased in the Wii Shop Channel or at retail outlets. This week's new games are:


Nintendo's new Wii Fit™, launching today, combines fun and fitness in ways that will have people getting up off their couches, moving around, having fun and maybe even breaking a sweat. Wii Fit gets everyone pumped up about making enjoyable physical activities a part of their daily routines. Wii Fit even tracks users' progress, which lets people see how they have improved while challenging them to better their scores and stay motivated to keep going.

At an MSRP of $89.99, Wii Fit comes packaged with the Wii Balance Board™ accessory, a precisely engineered platform that senses both weight and shifts in movement and balance. The Wii Balance Board connects wirelessly to the Wii™ console and serves as the centerpiece for more than 40 fun activities that challenge users in areas like yoga, aerobics, strength training and balance. Helpful virtual trainers in the game talk users through the different activities and make suggestions for improvement.

"Wii Fit will get you moving whether you've been playing video games for years or this is your first time," said Cammie Dunaway, Nintendo of America's executive vice president of Sales & Marketing. "Wii Fit is easy for anyone to try and is yet another example of how Nintendo continues to expand the world of video games to new audiences."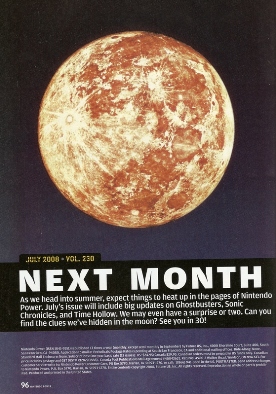 Nintendo Power's moon has stirred up quite a bit of discussion. People have been antsy, waiting in anticipation to find out which title Nintendo Power was referring to in its last issue. The knowledge that the mystery game is a third-party narrows the playing field a bit, yet there are still endless possibilities that lie in store for Nintendo Power's innocuous moon. Here are a few that could definitely be featured next month, although there are many, many other possibilities…
Castlevania
New iterations in the Castlevania series would be the most likely title(s) to be revealed in next month's Nintendo Power. The series has always been associated with the moon, vampires, and other dark content. Castlevania: Order of Ecclesia was recently confirmed for the DS and Koji Igarashi hinted at a Wii Castlevania. Nintendo Power also teased readers that they would reveal a "game or two." Therefore, next month, Nintendo Power might be showing off Order of Ecclesia for the DS and another Castlevania title for Wii.
Harvest Moon
The Wii has seen its fair share of Harvest Moon titles, so another game announcement wouldn't be completely farfetched. It also doesn't hurt that "moon" is part of the Harvest Moon title, too. However, Nintendo Power very recently previewed the upcoming Harvest Moon: Tree of Tranquility game for the Wii. Would Natsume really announce another game even though they already have a Harvest Moon title releasing in North America in just a few months?
Platinum Games title
Does that moon in back of the Platinum Games logo seem familiar? It should, since it is nearly identical to Nintendo Power's moon image. Nintendo Power could be showing off MadWorld, Platinum Games' extremely mature title or perhaps an unannounced game. After all, Platinum Games confirmed that they do have one additional title in development, though it is unknown which console it will release on.

Planet Moon title
The picture of the moon on the last page of Nintendo Power may have been an indirect hint rather than a clear indication of the game(s) the staff are planning on revealing next issue. It is possible that NP will be revealing a game from Planet Moon, a company that has expressed interest in Wii development? Based on Planet Moon's history on Wii, a possible game from the company may be more of a casual title. Nonetheless, it could be promising.