With Trine 2's original release, Frozenbyte prepared a boxed version for Europe. That begs the question: could Director's Cut ever get a retail edition as well?
When one fan asked if a hardcover version would be made available, Frozenbyte left the door open to the possibility. However, in order to make this happen, the developer would need to form a partnership with another company and cautions that the whole process would "take a lot of time to arrange."
Frozenbyte said:
"It's a possibility… we'd need a partner for it though, so even if we decide to go for it, it will in any case take a lot of time to arrange, so it's hard to say when it could happen… we'll? see!"
Fuzzy Wuzzy Games confirmed Armillo for the Wii U eShop yesterday. This isn't the indie dev's only project, however.
Along with Armillo, the team is working on another project that is being kept under wraps for now. Fuzzy Wuzzy's James Saito would only divulge that it is "going to be unique in its own ways, instead of being more of a throwback like Armillo."
Saito teased:
"Yes, but nothing official yet that we want to announce. One project has been in the planning stages for a few months and will soon approach prototyping. I won't say anything except that it's going to be unique in its own ways, instead of being more of a throwback like Armillo. But for now, our focus is on finishing Armillo and making it as good as we'd like."
Fuzzy Wuzzy Games is bringing "Armillo" to the Wii U eShop, and it's due for launch on the store this year.
Armillo was once planned for XNA through the Xbox Live Arcade. However, the team is now concentrating on making the title for Wii U.
What is Armillo, exactly? The two videos above may give you a pretty decent idea. It's somewhat reminiscent of Marble Madness and even has a bit of a Super Mario Galaxy vibe.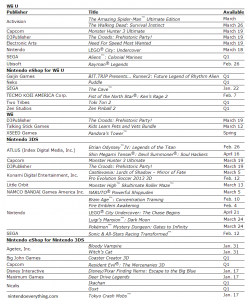 Nintendo has sent out a new release schedule for North America that reveals numerous release dates for upcoming games on its platforms. The graphic above confirms release dates for LEGO City: Undercover, Monster Hunter 3 Ultimate, Luigi's Mansion: Dark Moon, and more. Nintendo additionally revealed "LEGO City Undercover: The Chase Begins", a 3DS prequel to the Wii U game, which "follows the exploits of Chase McCain as a rookie cop."
Also worth mentioning: Game & Wario, The Wonderful 101, Pikmin 3 and Wii Fit U are all scheduled to arrive in the first half of the year.
The graphic above shows the full lineup of dates. Head past the break for the official news straight from Nintendo.
Zen Studios has been working on downloadable content for its 3DS eShop games for a long time. A really long time, in fact.
The company hasn't said much about DLC in recent months, but it's still on the way. Zen Studios shared the brief update on Twitter and also noted that a release date for Zen Pinball 2's Wii U eShop release is coming soon.
@frapril 3DS DLC is still coming. Just finalizing the Wii U version and we should have our release date any day now 🙂

— Zen Studios (@zen_studios) January 16, 2013