Choice Provisions on making Runner3 a Switch exclusive, Rebellion on bringing over Rogue Trooper Redux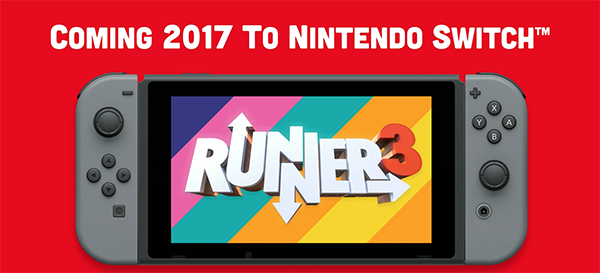 It took awhile, but Choice Provisions finally confirmed Runner3 for Switch earlier this week. Making things even better is that the game is an exclusive for the system.
Speaking with MCV, producer Dant Rambo said that "Nintendo's focus on accessibility and creating a platform for the hardcore and non-hardcore alike were the biggest factors for [Choice Provisions]" in creating the project only for the new console. Being able to play the game at home or on the go was another factor as well.
Rambo also said:
"As a smaller team, focusing all our efforts on one platform made a lot of sense to us. It didn't take us long to decide on the Switch. We feel like it's a really great fit for the Runner series, which we've always tried to design in a way that allowed for long and short gaming sessions.

"[Nintendo's] approach to indies with the Switch is in many ways an evolution of their approach to indies with the Wii U. They've really made an effort in recent years to share the spotlight with smaller developers, which is something we've absolutely seen the effects of in terms of sales and coverage.

"In our experience, Nintendo's always made an effort to provide good placement to smaller titles in the eShop and in their marketing, and we feel this is why Runner 2 sold as well as it did on the Wii U."
Another title announced for Switch recently is Rogue Trooper Redux from Rebellion. CEO Jason Kingsley had this to say about supporting Switch with its remake:
"Switch looks like an exciting machine to work with, and Nintendo appreciates good game mechanics, so they understood why we felt the time was right to bring back one of the legendary 2000 AD titles. Nintendo has been super helpful, and if you count us as an indie, then they definitely support us in our ambitions."
Leave a Reply