Dead Cells reveals "Everyone is Here" update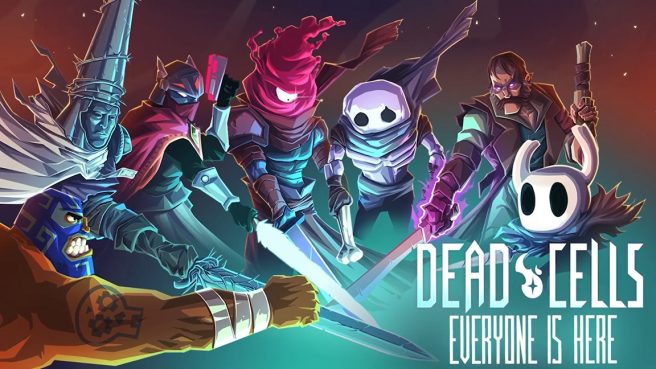 Original (11/22): A special patch is coming to Dead Cells, with Motion Twin and Evil Empire revealing the "Everyone is Here" update.
As shown in the image above, Dead Cells is crossing over with some well-known Switch games. The lineup includes Blasphemous, Curse of the Dead Gods, Guacamelee, Hollow Knight, Hyper Light Drifter, and Skul: The Hero Slayer.
Here's some additional information about the content in Dead Cells' "Everyone is Here" update:
Blasphemous

New weapon: Face Flask
– They say this was supposed to heal you, but it doesn't seem to work that well… Eh, who cares, it looks cool as heck.

New outfit: Penitent's Outfit

Curse of the Dead Gods

New weapon: Machete and Pistol
– Slash, slash, bang. But like, big strong bang. Basically.

New outfit: Explorer's Outfit

Guacamelee

New weapon: Pollo Power
– Unleash your inner chicken and bring wrath to your enemies, as you lay egg-bombs all over the island.

New outfit: Luchador's Outfit

Hollow Knight

New weapon: Pure Nail
– Looks like Blobespierre has finally learnt that he's not obliged to stop running everytime he wants to take a swing.

New outfit: Vessel's Oufit

Hyper Light Drifter

New weapon: Hard Light Sword / Hard Light Gun
– Shoot with one to mark your enemy, hit with the other to get your ammo back.

New outfit: The Magician's Outfit

Skul

New weapon: Bone
– One swing, two swings, one uncontrollable whirlwind… You know the deal.

New outfit: Little Bone's Outfit
How do I unlock all this beautiful content?

As you explore Prisoners' Quarters, you might notice some new unusual rooms that don't seem to belong here. Perhaps they shifted from another dimension ?

Legends say that finding and exploring those rooms will bring you glory and strength!.. as well as new tools to add to your arsenal.

We also heard that a strange, mysterious, might-be-full-of-hints book has appeared somewhere in Prisoners' Quarters. However, its sayings look quite cryptic and incomprehensible…
We have a trailer showing the Dead Cells "Everyone is Here" update below.
The Dead Cells "Everyone is Here" update is coming to Switch soon. You can check out the full patch notes here.
---
Update (11/29): The update, version 1.16.0, is now live on Switch. Once it's downloaded, you'll gain access to everything in "Everyone is Here".
Leave a Reply