Dragon Quest Builders 2 update adding Cultivation Island and more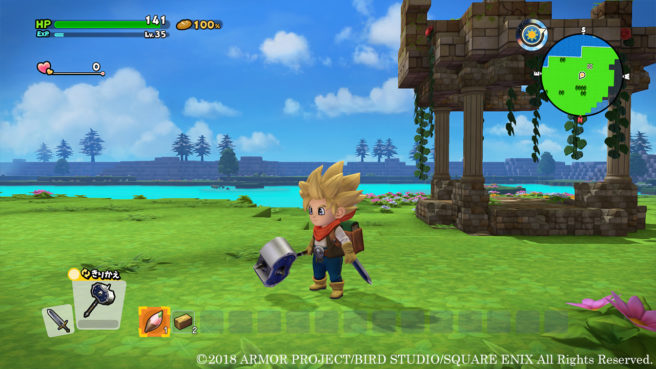 Square Enix has announced that a new update is releasing for Dragon Quest Builders 2 in Japan tomorrow, January 31. It'll introduce Cultivation Island as well as other features and improvements. Find the full rundown of the update below, courtesy of Gematsu.
Cultivation Island
– A new island to build
– After you reach the end of the story, the protagonist will have become able to make lots of things and Vacant Island will have become cramped
– Luckily, the ship captain discovered an area of the ocean where a mysterious island called Cultivation Island exists
– On its unexplored lands, building will begin anew
– You can choose the environment type of Cultivation Island yourself
– Freely build in environments that do not exist on Vacant Island
What is Cultivation Island?
– It is an island for building
– You can save on Cultivation Island
– After the game ends (when the word "Clear!" is attached to "Continue" on the title screen), you can go to Cultivation Island from Vacant Island
– The environment of Cultivation Island can be chosen from the unlocked Material Island environments
– The island's shape is random
– You can only choose one Cultivation Island at a time
– In order to choose a new Cultivation Island, you must part with your current Cultivation Island
-The Builder Heart is not used to unlock Cultivation Island
– You can bring items to and take items back from Cultivation Island (excluding some items)
– Cultivation Island will be updated in the future with the following developments: you will be able to bring your comrades to Cultivation Island; you will be able to play multiplayer on Cultivation Island; you will be able to update the Cultivation Island terrain on the Bulletin Board; and more
Characters Personalities Enhanced
– The conversational repertoire with characters has increased
– Pay attention to the thoughts of those who build alongside you and the characters' new information
– They might even share a room recipe
– Perhaps you will get to see a surprising side of the island dwellers
Erdrick's Talisman: An Item That Makes Monsters Go Away
– Monsters will not appear on reclaimed land where the "Erdwick's Talisman" item is placed, which can be made after the end of the story
– If you place it somewhere other than reclaimed land, like the temple where Shirojii can be found, the effect will spread across all of Vacant Island
– Make Erdrick's Talisman on the Vacant Island Workbench
– With Erdrick's Talisman, you can focus all your attention on building
Take "Clear" Photographs
– A "Clear" command has been added to "Photography" mode's camera controls
– This can be used to get rid of fog
– The "Clear" command is useful when shooting scenery and giant structures
Type Added to Builder Tool Switching Settings
– A new type has been added for the button allocation of Builder Tools controls / item controls
– You can change it from System > Settings > Builder Tool Switching
Miscellaneous and Bug Fixes
– Bug fixes implemented
Leave a Reply