Dragon Quest XI: New story details & screenshots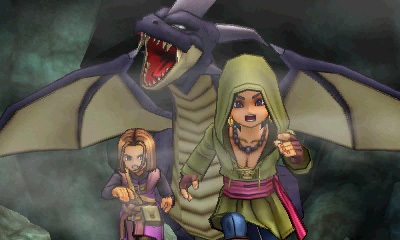 Square Enix has released some new story details and screenshots for Dragon Quest XI. There's a bit of an overlap with the details revealed in Jump magazine last week, like the bios for new characters Veronica and Senya, so we will only be covering the new stuff here, in addition to screenshots from the 3DS version. Thanks to Gematsu for the translation.
As the reincarnation of the legendary "Hero," the protagonist sets off on a journey through a vast world.

The protagonist, who grew up in the calm village of Ishi, turned 16 years old and took part in a coming-of-age ceremony as a village custom. As the reincarnation of the "Hero" that once saved the world, he understands that he is burdened with a great mission. To learn about the Hero and the Hero's mission, he sets off on a journey from his hometown.

The destination—the continent's biggest country, "Delcadar." Specifically, the king.

Based on his mother's words that all will be revealed should he go to Delcadar, the protagonist in due course heads for the king. The protagonist informs the king of Delcadar that he is the "hero," and the king began to tell him what the "hero" means—

And then, the Hero is called the child of the devil!

What the king of Delcadar said was unbelievable. He said that the Hero is the child of the devil. In response to the king's words, the soldiers surround the protagonist with their swords pointed at him. What is the meaning of all of this? The story of the legendary "Hero" starts off with a bang. What is the fate of the protagonist?
Leave a Reply