Fire Emblem Warriors details – class changes, skills system, Emblem Shop, new History Mode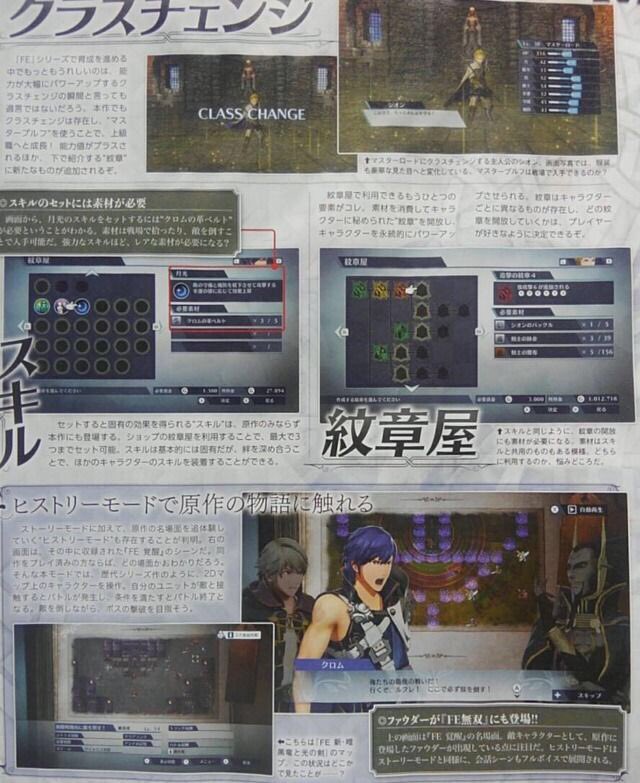 Fresh details about Fire Emblem Warriors have leaked out of Famitsu. We're able to learn about certain features and modes like being able to change classes, a new skill system and Emblem Shop, plus a new History Mode.
Here's the full roundup:
– Class change confirmed
– This can be done by using Master Seal item
– Shion/Rowan (and Lianna) can promote from Lord to Master Lord
– Game will have a skills system
– Can equip up to three skills
– Skills are unlocked by bonding with other characters
– Emblem Shop system in the game
– This apparently involves using materials and permanent stat boosts
– History Mode is separate from Story Mode
– It retells the original story of each Fire Emblem game featured
– In History Mode, move characters on a 2D grid like the original SRPG
– When ally adjacent to enemy, battle will trigger
– Famitsu shows that Validar will appear as an enemy NPC
– Scenes in History Mode will also be fully voiced
– One History Mode map shown in Famitsu is from Shadow Dragon
Famitsu revealed earlier today that Male Corrin and Sakura are in Fire Emblem Warriors. We should have new scans tomorrow.
Leave a Reply