[Giveaway] Win a special Switch system to celebrate Doctor Who: The Lonely Assassins release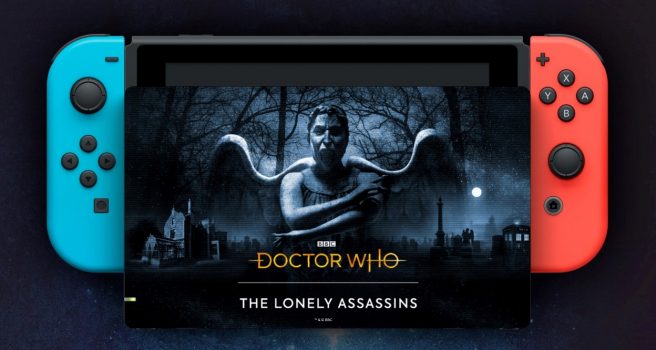 Update: Our giveaway has come to a close. Congratualtions to MilkyWay! We appreciate all of the entries. Stay tuned for more giveaways in the future.
---
Doctor Who: The Lonely Assassins, a mystery game featuring the terrifying Weeping Angels that was made by the developers of Sara Is Missing, recently saw its debut on Switch and other platforms. We're now celebrating its release with a special giveaway.
One lucky reader will win a special edition Switch. The dock is wrapped in a skin featuring key art from Doctor Who: The Lonely Assassins, as pictured above.
We'll be running the giveaway starting today through October 10. Those that are in the US and the UK are eligible, and to enter, simply leave a comment below that mentions which portrayal of the Doctor has been your favorite in the series thus far.
A winner will be selected on October 11. We'll be following up with the winner in the comments, so please keep an eye out. If we don't hear back within 24 hours, we'll need to pick someone else.
For those that haven't been keeping up with Doctor Who: The Lonely Assassins, check out the following overview and trailer:
Building on the terrifying legacy of the Weeping Angels, first encountered in the iconic story "Blink", Doctor Who: The Lonely Assassins is a thrilling found-phone mystery developed by the award-winning creators of Sara Is Missing and SIMULACRA.

Amidst a sinister series of events at a seemingly abandoned house in London, someone goes missing, and you find their phone. When it begins to self-destruct, ex-UNIT scientist Petronella Osgood enlists your help to uncover hidden clues and solve cryptic puzzles. Will you unravel the truth behind the chilling disappearance before it's too late? But remember: don't turn your back, don't look away and DON'T BLINK.

ORIGINAL DOCTOR WHO STORY
Picking up where the iconic episode "Blink" left off, the Weeping Angels are back to unleash terror once again…

PETRIFYING NEW NEMESIS
Confront an evil like never before. No phone is safe!

AUTHENTIC CHARACTERS
Work alongside Petronella Osgood (played by Ingrid Oliver) to investigate mysterious events. Also features Finlay Robertson as Larry Nightingale and a special appearance by Jodie Whittaker as the voice of the Doctor.

FOUND-PHONE MYSTERY
Search through messages, emails, videos, photographs and more to uncover clues, solve puzzles and reveal the truth.
Doctor Who: The Lonely Assassins is now available on Switch. You can access the game's official website here.
Leave a Reply