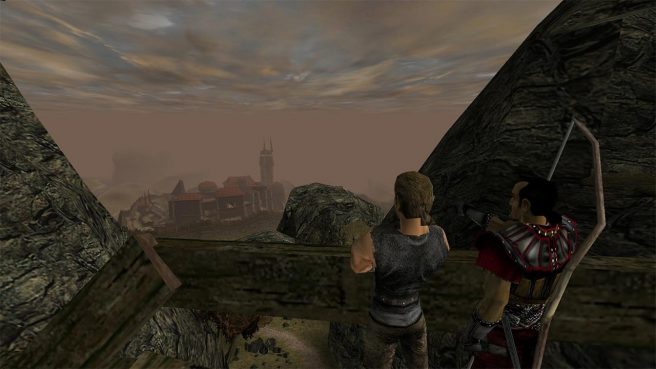 Gothic Classic came to Switch this week courtesy of THQ Nordic, and gameplay is now in. More than twenty years after its initial debut, players on Nintendo's console can experience the title.
Here's an official overview with a bunch of details about the title:
Return to Myrtana as the Nameless Hero in Gothic Classic, the award-winning RPG that shaped and inspired countless roleplaying games. Experience it now for the first time on Nintendo Switch.

War has been waged across the kingdom of Myrtana. Orcish hordes invaded human territory and the king of the land needed a lot of ore to forge enough weapons, should his army stand against this threat. Whoever breaks the law in these darkest of times is sentenced to serve in the giant penal colony of Khorinis, mining the so much needed ore.

The whole area, dubbed "the Colony", is surrounded by a magical barrier, a sphere two kilometers diameter, sealing off the penal colony from the outside world. The barrier can be passed from the outside in – but once inside, nobody can escape. The barrier was a double-edged sword – soon the prisoners took the opportunity and started a revolt. The Colony became divided into three rivaling factions and the king was forced to negotiate for his ore, not just demand it.

You are thrown through the barrier into this prison. With your back against the wall, you have to survive and form volatile alliances until you can finally escape.
View the gameplay for Gothic Classic on Switch below.
Gameplay
You can purchase Gothic Classic on the Switch eShop. It supports English, Spanish, French, German, Italian, and Russian languages.
Leave a Reply