Hot Wheels reveals new Mario Kart products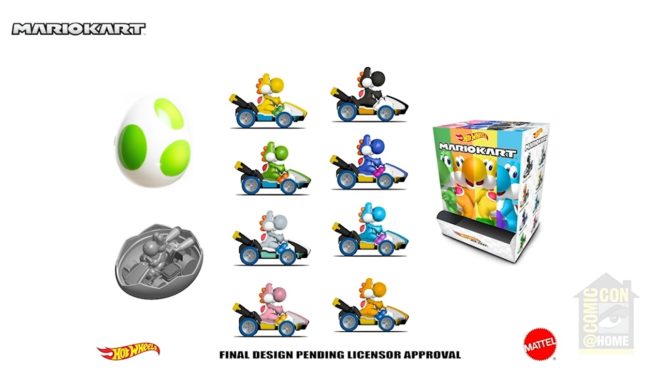 Last year, Mattel teamed up with Nintendo on Hot Wheels Mario Kart die-cast vehicles and track sets. The line is now expanding with a few new products. As part of a recent [email protected] panel, Mattel gave a sneak peek as to what's planned for the future.
First up are new drivers Cat Peach and Diddy Kong. The two characters will drive a standard kart and Pipe Frame Kart respectively.
Mattel is also introducing a new die-cast item to the assortment with a whole segment just of karts paired with gliders and drivers, starting with Toad in the P-Wing and Plane Glider as well as Yoshi in the Sports Coupe and Paraglider. The gliders are removable, so these will work with the Hot Wheels track sets.
Lastly is something new just for Yoshi. Mattel will be selling a Yoshi egg, which has one Yoshi inside with a standard kart. The top of the egg comes off and you can display the character at the bottom. Eight color variations are planned, though since these will be sold blind, you won't actually know which one you're getting.
Here's a closer look at the upcoming Hot Wheels Mario Kart products:
There's no word yet on when these toys will be available. Mattel has only said that they'll be rolling these products out during the fall and spring.
Leave a Reply