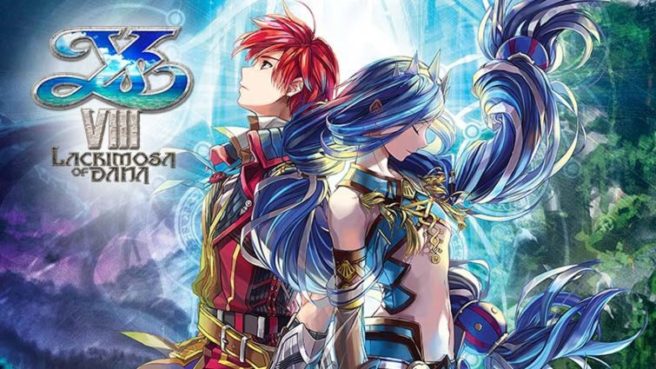 This week, it was revealed during the Nintendo Direct Mini that Ys VIII is coming to Switch this summer. It's a pretty big deal since Falcom's series hasn't appeared on a Nintendo platform in quite some time – it's primarily been a PlayStation franchise as of late.
Interestingly, the Switch version of Ys VIII is not actually being handled by Falcom directly. NIS America is publishing the game in North America, while parent company Nippon Ichi will release it in Japan.
There's more on the partnership thanks to an interview published on Nippon Ichi's website. A discussion was held between Falcom CEO Toshihiro Kondo and Nippon Ichi CEO Sohei Niikawa.
When asked about the appealing aspects of the Switch version, Niikawa answered that there are three ways to play: portable, TV, and tabletop modes. He believes the variety in playstyles is also the reason why the system is popular overseas. Niikawa has been hearing that Japanese players prefer to play games in portable mode, while western players prefer to play them at home. That's why he thinks Ys can work well with Switch. Even Kondo's children want a Switch, because "you can connect it to TV, and it can also be made into a portable console which you can play with friends."
When asked why the Switch version of Ys VIII is published by Nippon Ichi instead of Falcom, Niikawa explained the history of his friendship with Kondo. Their ages are close, both joined a company soon after graduating from college, were able to write game scenarios by themselves, and become CEO of a listed company. So Niikawa talks to Kondo often when he wants to consult things.
At the point when Falcom wanted to get into the console game business, they didn't have the proper knowledge yet. So Kondo contacted Niikawa to help his company get on its feet in the business. Later on when Niikawa became the president of NIS America, he would help Falcom in the latter's overseas expansion, which has continued for about five years.
After Nippon Ichi released Disgaea 5 Complete on Switch, they were very pleased with the reception and results. So when they then asked Falcom if the latter can bring one of their games to Switch, they give them Ys VIII.
Since Falcom is not a very large company and 80% of their staff are developers, they have been mostly focusing on producing their own original titles. To be able to expand in other directions such as ports and overseas expansion (localizations), they prefer to find a partner and let them handle those aspects. This is where Nippon Ichi fills that partner slot.
The two continued:
Niikawa: I might have been quite insistent [when I made the offer to you]. I'm sorry about that…

Kondo: No problem (laughs). We do want the games we've created with utmost effort to be played by as many people as possible, and we're also especially interested in the Switch, so we've been wondering whether we would have a chance to do that.

Niikawa: So that means it's a very good timing indeed (laughs).
The interview also had some general talk about Ys and Ys VIII. Ys is an action RPG series that is having its 31st anniversary this year. It is also well known to never had its protagonist change from Adol Christin.
The first Ys was a very simple game where the player just needed to defeat enemies in a exhilarating sense. In that era there were many games made to be as difficult as possible, but Ys was picked up on as an easy action RPG that can be cleared by anyone. It also became popular due to having superior graphics at that time.
Ys VIII has the highest leap of evolution throughout the Ys series so far. As Falcom's current CEO Toshihiro Kondo has inherited the franchise, one of the first points to consider was changing the tackling attack – which had been present since the first game and made the series well known for – to actually swinging a sword.
Kondo wasn't able to change that until Ys VII. Ys VIII started as an attempt to challenge a lot of aspects in producing a game for PS4 at the time, such as having two protagonists and building a village, without changing the elements that define a Ys game such as making it feel good to just use the controls to run and ensuring that players wouldn't be bored after about 2-3 hours of battling enemies. As long as they can recreate the sense of exhilaration from the action gameplay of the first Ys, they are allowed to make new arrangements like having the characters swing swords or use magic.
Kondo has been getting questions including from fans overseas, mostly asking if it's alright to jump straight in to Ys VIII as the entry to Ys series. He answers as long as people remember the facts that the protagonist (Adol Christin) is an adventurer, and that the story always starts with a new encounter and ends with a farewell, they should have no problem getting into the game.
Leave a Reply