[Interview] Frozenbyte talks Has-Been Heroes, developing for Switch, more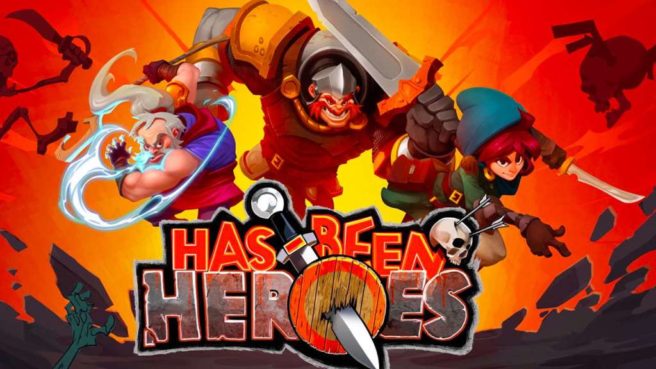 In January, Trine developer Frozenbyte announced a brand new project. Has-Been Heroes, a new roguelike title, will be on Switch – and very soon. A release date of March 28 has already been determined.
We caught up with Kai Tuovinen from Frozenbyte this week to learn a bit more about Has-Been Heroes. Tuovinen spoke about the game itself, how it's using HD Rumble, and more. We were also able to receive some comments about what it's like developing for Switch, among other subjects.
Our full Has-Been Heroes interview with Frozenbyte is below.
For those who haven't heard about Has-Been Heroes previously, can you share an overview of the game?
It's a roguelike game of strategy and action where you play as a bunch of heroes well past their prime, hence the name Has-Been Heroes. They're tasked by the king to take the twin princesses to a faraway academy.
The combat is "semi turn-based" due to the ability to pause and think of your actions at any time. You play as three heroes on three lanes, and use a combination of melee attacks as well as spells in order to defeat incoming waves of evil monsters. You need to consider things like cooldowns, lane swaps and spell combinations in order to survive the onslaught! Your heroes grow stronger as you progress on the map by getting new items and spells from various crossroad locations such as spell vendors, merchants and treasure chests.
Has-Been Heroes is a challenging but at the same time rewarding game that will surprise you a lot with how different each run is due to the randomization of spells, items, the regions and enemies you get each time you play. There are 300 different spells and 200 items!
It's easy to learn the basics, so you'll pick it up fast… but letting go of the controller will be hard!
Has-Been Heroes feels like a completely new concept for Frozenbyte. Where did the inspiration for the project come from?
It all started out with a team-first approach about 2.5 years ago. We started out with a small team that wanted to make a roguelike game with a challenge. They began making designs and prototyping, and at some point after a few tries we had something special that got everyone hooked. We've been building on that ever since.
For the story there was always the thought of an epic quest that a bunch of heroes had to perform, and the game's lead designer wanted to have a humorous touch to it so it quickly turned into a quest to take the king's daughters to school – the Princess Academy. The hero characters looked pretty worn out so that's how we got the idea for the Has-Been Heroes. The humor will be a coping mechanism for the difficulty of the game 😉
How has it been working with GameTrust? Was a retail version always a part of the plan?
The retail versions were always part of the plan, and working with GameTrust has been a great experience. GameTrust's contributions allow us to focus on developing the game, while they lead the efforts of mapping out the global launch plans.
The team at GameTrust is doing everything that they said they would do to support us and more. They are also exhibiting the trust by giving us creative freedom to make the game we envisioned, which we both believe will excite and engage gamers around the world!
It seems as though Frozenbyte has formed a close relationship with Nintendo as you were granted early access to Switch development kits. How has it been continuing that relationship on the upcoming system? Can you say when you received the hardware?
We love working with Nintendo, it was great to be part of the Wii U launch and now Switch. We got the dev kits last year.
I think having our own engine is something that benefits us a lot in this relationship, as it gives us a lot of flexibility in porting to new platforms. We're rarely reliant on anyone besides ourselves bar the support of few middleware partners.
Frozenbyte brought the first two Trine games to Wii U, and now you're moving on to Switch. Was the game always intended to be on the new system?
It was initially targeted for PS4, Xbox One and PC, with NX as the potential fourth platform. Once we got the info on what NX was, it was clear that we wanted to include it.
We've heard that Has-Been Heroes will be supporting HD Rumble on Switch. Can you explain how it's used in the game?
HD Rumble in Has-Been Heroes will work when you use the spells. You'll "feel" the spells moving across the screen with a corresponding rumble effect. It's pretty neat!
Are you planning on taking advantage of any other features / functionality offered by Switch?
What we love about the Switch is the ability to take your game and continue it on the go after you leave the comfort of your home. Has-Been Heroes is a great game to be played in both the portable as well as tabletop modes in addition to the TV / docked mode.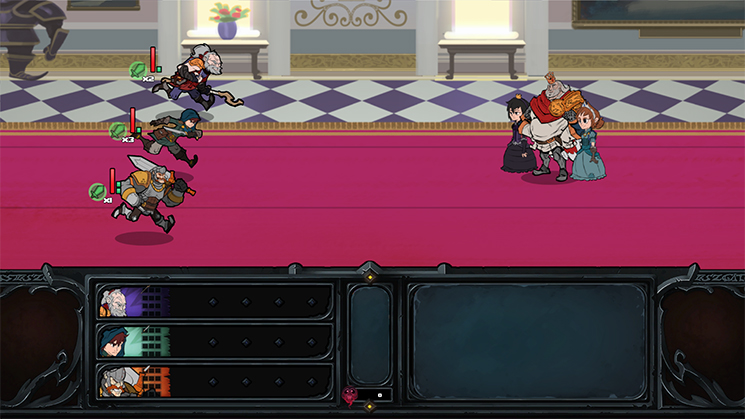 From a technical standpoint, has it been easier to work with Switch than Wii U? Is there more that you're able to do on this console in comparison to Nintendo's last system?
It's been easier to work on the Switch. Better documentation and everything seemed to be much more thought out from a developer perspective. The technical side has also improved a lot.
One trend we've been seeing with Switch thus far is developers and publishers bringing previously-released titles to Switch. Have you considered porting the Trine games? What about Trine 3, which didn't make it to a Nintendo system?
Right now we're focusing on Has-Been Heroes and possibly other new titles for the Switch. We've ported the Trine games to quite a few platforms over the years, so I think it's time we bring something new to the table.
Do you look back favorably on the time and effort it took to release the first two Trine titles on Wii U? Did they meet your sales expectations?
Oh yeah – it was great to be part of the Wii U launch lineup. Trine 2: Director's Cut was on top of the eShop's all-time best sellers for a long time so it was a big financial success. Trine Enchanted Edition also did okay so we've been happy with the results.
Does Frozenbyte intend to bring additional games to Switch in the future?
I don't see any reason not to…but we're not quite ready to share any details of those yet!
How do you personally feel about Switch as a whole?
I like it a lot. It's very appealing to me because I don't like gaming on a touch screen, so a device that is portable and has physical buttons, which can run some real games is very cool! Also the ability to dock it and play on a bigger screen makes it even better.
What's one thing about Has-Been Heroes you'd like to share that may not be very well known?
There's a trick move with the lane swapping which we call backstabbing. If you swap a hero to another lane and he/she is behind some monsters, when you resume the game the hero returns to the starting position and causes damage to the enemies on the way back. It doesn't do a lot of damage, but you'll find surprising uses for this technique!
---
Nintendo Everything would like to extend a big thanks to Kai Tuovinen for answering our questions!
Leave a Reply