[Interview] Sakuna: Of Rice and Ruin devs on origins, inspirations, making the Switch version, more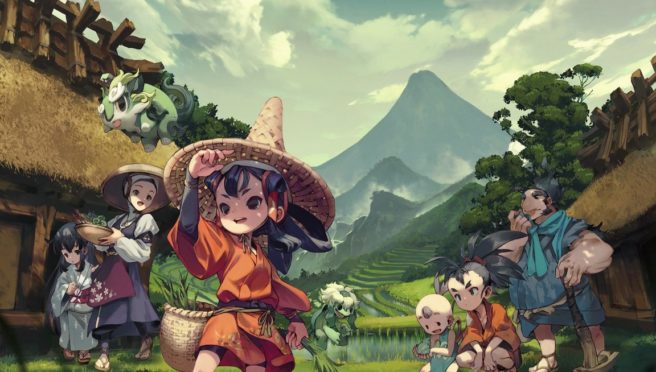 Sakuna: Of Rice and Ruin was a long journey to completion for Edelweiss. After five years in development, the game finally released in November. It's out now on Switch and other platforms.
Director Nal and CG artist Koichi were kind enough to take some time to speak with us as part of a new interview about the game. We were able to learn more about Sakuna's origins, including Nal's desire to create an action RPG going back to his days as a student. Other discussion topics included other games that inspired the project, working with Switch, and even how much rice was consumed during development.
You can read up on our full interview for Sakuna: Of Rice and Ruin below.
Sakuna: Of Rice and Ruin feels like it's been a long time coming. How does it feel to finally be finished with development?

Nal: This game's development became such a huge part of my life that at times I thought it would never end, so I do feel strangely disappointed that it's all over. On the other hand, I was also under immense pressure to complete the game because it received a lot of attention prior to its release. Finally launching it has lifted a great weight from my shoulders. I'm so relieved.

Can you talk about what the initial spark was that led to the game's creation?

Nal: We originally started developing Sakuna as a sequel to one of our earlier titles, Fairy Bloom Freesia.

This game is pretty different from Edelweiss' past titles. Was it a conscious decision to try something brand new?

Nal: Our games include shoot 'em ups like Astebreed and platformers like Fairy Bloom Freesia. Sakuna belongs to the latter category. Looking back on my career, as a student I dreamed of creating an action RPG, and I inched toward that dream by gradually increasing the scale of each game I created. With Sakuna, I finally realized the dream that I've been chasing for so many years.

Sakuna was in development for several years. How much did the game end up changing along the way?

Nal: The platforming section didn't change much because we've made similar games in the past, but we originally conceived of the rice cultivation section as a village building simulator. When considering how to make our game stand out in a sea of similar ones, we decided that focusing on a single element in depth, rather than several elements at a surface level, would make a worthy challenge. That's why our simulation only focuses on growing rice. That early decision marked the one major shift in our game's direction, hence why its themes and concepts have changed little since its inception. I think development dragged on long for as long as it did because our tiny team struggled to handle such a large-scale game.

Rice is a global commodity that is eaten regularly and has always been part of people's diets around the world. Did the team have multiple concept phases when designing Sakuna where you thought about something else to be the core focus of the game itself, like coffee/coffee beans?

Nal: When we decided to focus on growing just one crop, the first thing that popped into my head was rice. That seemed like the best crop to focus on, so we didn't consider anything else.

Sakuna almost feels like two different games at points with one portion being the farming you focus on to gather as much rice as possible which also has an over the shoulder third-person point of view, compared to the adventure portions, which shift to strictly side-scrolling 2D hack and slash. Was there a reason why it wasn't all just a third-person over the shoulder action adventure game?

Nal: We'd already settled on having a side-scrolling 2D action platforming section before we started thinking about the simulation part. In line with our earlier games, we stuck with the 2D environment for this one because it would save on money and resources, make for a better combo-based battle system, and help us stand out from other titles on the market. We originally planned to make the simulation part a 2D side-scroller as well, but we changed it to 3D quite early on. After all, these two sections have decidedly different game design philosophies: rule-based gameplay for the fighting sections vs. experience-based gameplay for the farming sections. So when we tried out the latter with a third-person view, it just felt right.

The game has a fairy fleshed out combat system that's easy to pick up and feels great to perform. It's also fully customizable with special abilities that can be unlocked, swapped, and upgraded. Did you look at any other titles as inspiration when designing this system?

Nal: Devil May Cry mainly influenced the combo system, while the Tales series inspired the direction-based attack system, and the old arcade game Snow Brothers gave me the idea to crash enemies into one another.

We don't often see games like this receive a full English dub. Was there a reason why the team decided to have the localization include voiceovers in English as well instead of the usual Japanese voices and English translations? Was there extra time with development costs allowing it?

Nal: An English dub was the only thing XSEED Games requested from us. From writing the script to casting the characters, they oversaw every aspect of the dub.

Extra comment from XSEED: As the western-facing publisher, we usually try to provide English voices for all of our titles. We think it is important to give players as many options as possible, and we know that some player prefer not to focus on subtitles during event scenes.

The only instances where we wouldn't include both English and Japanese voices would be if 1) Japanese voices would work better due to the setting of the game, 2) there are contractual issues with using the Japanese voice over in a different region, 3) when we can't get in touch with whomever owns the Japanese voice usage rights in other regions, or 4) when the original creator has specific requests.

We knew as soon as we started getting to know these characters that we wanted Sakuna to have an English voice track, and we were really grateful that Edelweiss was able to program in the dual audio option. Our staff enjoyed working on Sakuna's voice recording as we had to work through fun challenges like stylizing English to adapt an in-game fictional Japanese dialect, or finding the voice for a child character who only speaks in ooohs and ahhhs.

We have to ask about the 'pet the dog' feature. Was including this in response to fan feedback or just something the team wanted to add?

Nal: I love dogs, so I planned to include this feature from the very start. You can also pet the cats, but we added this in because our animator loves cats. They bear sole responsibility for making this decision, duplicating every last one of the dog animations for the cats, and putting them in the game.

How was the experience of developing Sakuna for Switch? Did the team come across any issues along the way?

Nal: Making sure the game functioned properly didn't present too much of a problem because my developer friend at souvenir circ. gave us our low level engine, which has already proven to work on Windows, the PS4, and the Switch. Of course, we faced some performance issues when running all the different parts of game at once. But we had already designed it around specs slightly less than what the PS4 can handle, so we could preserve a nice level of quality without making too many changes.

Are there any sort of plans for post-launch updates and/or DLC?

Nal: We're considering updating the game with improvements and adjustments based on player feedback. However, we're not thinking about adding any new content at this time.

Edelweiss isn't typically known for sequels, but do you feel like there's more you could do with the Sakuna universe?

Nal: True, once I finish making a game I don't feel like making anything similar to it for a while. But this time we've received such a positive reaction from our players that I'd like to think we could do something. I suppose it depends on what kind of ideas we come up with, although I don't have anything in mind at the moment.

How much rice was consumed in the making of this game?

Nal: About 309kg.

Koichi: As part of our research, we prioritized trying a wide range of rice. We started with koshihikari (one of the most common and popular kinds of rice), then the ten best varieties across multiple categories, and finally five random varieties. I most enjoyed eating ayahime rice (a soft, sticky Hokkaido variety) although tōwa no kaori (rice with a popcorn-like fragrance) also left a big impression on me.
Leave a Reply