[Interview] Sayonara Wild Hearts dev on the name, making a non-rhythm music game, more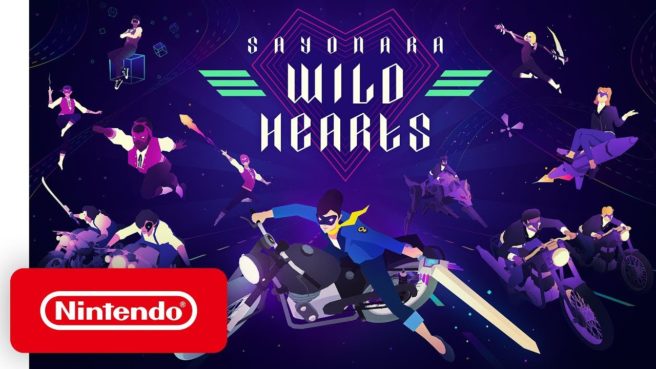 Simogo has developed a number of acclaimed titles, including the Wii U game Year Walk. Its latest project, Sayonara Wild Hearts, recently debuted on a Switch close to a year after it was announced at The Game Awards.
Not too long ago, we spoke with the team at Simogo to discuss Sayonara Wild Hearts in-depth. The studio discussed how the backstory behind the name, wanting to make a game about the flow of music instead of the beats, and more.
Here's our full discussion:
Sayonara Wild Hearts seems pretty different compared to Simogo's past games. Where did the inspiration for the project come from?

After having made a series of slower and thinkier games, we decided it was time to try something that was really fast and a little more about gut, than brain.

Whom did you work with to create the game's soundtrack, and could you tell us about that experience?

The vocal pop tracks were written by Jonathan Eng, arranged by Daniel Olsén, with vocals by Linnea Olsson. The instrumentals are by Daniel mostly.

I see some magical girl references in the transformations and tarot cards – what kinds of real world influences did the team use to develop this incredibly unique style?

Things like the cafe racer culture as well as the teddy girls subculture was really influential, visually.

Where did the idea for the title of the game "Sayonara Wild Hearts" come from?

We decided the title early on, actually. I was inspired by the myth (at least I think it has now been debunked?) that "Final Fantasy" got its title from the creators believing it would be their last game. We wanted to give Sayonara Wild Hearts our everything, as if it was our last game, so we wanted it to have a name that reflected that.

How does Sayonara Wild Hearts differ from other rhythm games?

We don't consider it a rhythm game. Rhythm games can be really scary to a lot of people, so we wanted to make a game that was based around music, but rather followed the flow of tracks rather than being about beat matching.

Would you consider Sayonara Wild Hearts to be more of an album or a videogame?

It's both!

Sayonara Wild Hearts also has a fair focus on narrative. How did you balance the game between its gameplay, music, and story? Did one ever become more of a focus than the other?

This time around we wanted story to step back, so it is more about the general vibe and a feeling, rather than an outspoken story. I would say gameplay, vibe and emotional impact was most of the focus over story.

Having Sayonara Wild Hearts unveiled at The Game Awards must have been a pretty big deal. How did that ultimately happen?

I think Geoff Keighley had asked us a couple of times if we had something to show at the awards many years ago, but for Sayonara Wild Hearts all of that was mostly through Annapurna! Well, besides the trailer that we created here.

How long was the game in development, and how did development generally go? (Smoothly, hit a few roadblocks, etc.)

It was about four and a half years. It was quite tough to create a game like this which such a small team.

What was it about Switch that drew the team to Nintendo's platform?

We wanted to make a console game and some year into the development we had visited Nintendo to see Switch and got dev kits so we just thought it'd be a cool start for our first console game!

How was it working with Annapurna Interactive? Was there anything in particular the company contributed to the game?

It was really great. The team is really awesome, pragmatic and always look after us and our interests. They are great sparring partners too, for all kinds of advice and help.

Although it's only been available for a few days, are you pleased with how Sayonara Wild Hearts has been performing sales-wise thus far?

We don't really make hit-games so it's too early to tell. All of our games have been a little more evergreeny in that way. They don't come out with a bang but continue to do well over a very long time.

Are you interested in making a sequel, or do you feel the team has exhausted all of its ideas for the time being?

We never say never, but there aren't any plans for a sequel. It'd be fun to explore more ideas about pop music, though.

Are there plans for any sort of post-launch updates or content?

No big ones.

Does Simogo have any interest in bringing over any other previous titles? The Wii U version of Year Walk was completely reworked with additional content, and was a personal favorite of ours, so we'd be excited to see it get a re-release for Switch.

Thank you for the kind words about Year Walk! It'd be tricky to bring that version over to Switch, as we tailored it so specifically for Wii U. We don't have any plans for ports at the moment.

Is there anything you'd like to say specifically to the Nintendo community and fans of Sayonara Wild Hearts?

First of all: thank you for playing! We put a lot of effort and thought into the HD rumble of the Switch version, so hopefully you'll like it! We also spent a lot of time to make the game 60 fps and native resolution so we hope you enjoy that too!
Leave a Reply