[Interview] The Alliance Alive HD Remastered devs on revitalizing the game for Switch, what's new, more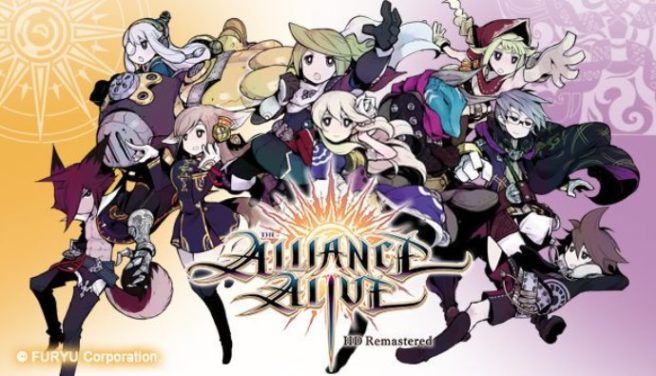 Those that have played The Alliance Alive feel that its a standout RPG on 3DS. However, the game came out pretty late in the system's life cycle, and may have been overlooked. It's now getting a second shot in the public eye as FuRyu teamed up with NIS America to bring The Alliance Alive HD Remastered to Switch.
At the Tokyo Game Show, we were treated to a big interview with several developers involved with the new version. We asked about why The Alliance Alive is returning, what's new this time around, and more.
Here's our full discussion:
Interviewees:

Fumika Ikeda (FuRyu; Director of Game Development)
Yoshitaka Tachibana (FuRyu; Marketing) [worked on Alliance Alive]
Yuichi Kimura (FuRyu; Video Game Director)
Haruka Sonobe (FuRyu; Marketing/Sales, Overseas) [worked on Alliance Alive]
Kazuki Takei (Cattle Call inc.; Technical Development) [worked on Alliance Alive]
Takafumi Akiyama (Cattle Call inc.; Game Designer) [worked on Alliance Alive]
Yoshitaka Murayama (Blue Moon Studio; President) [worked on Alliance Alive; Scenario Writer]
Ai Umeno (NIS America, Inc.)

Why did you decide to bring The Alliance Alive to new platforms in HD?

So within FuRyu, the title is very highly praised, so we wanted to bring it to as many fans as possible. We decided to bring it on to a lot of platforms so fans could get hands-on with the game.

Aside from the graphics, what has changed since the original 3DS release?

The difference is the 3DS had two screens, and we had to make it into one screen. We had to incorporate everything – the UI – into one screen. The next thing that's different about it is a tutorial and a guide within the game, because Switch doesn't have physical manuals anymore.

Is there anything to incentivize those who played it on 3DS to pick it up again in this remaster?

The 3DS has a very small screen, so the entire world looked like it was in a haze, whereas the Switch version and the PS4 version have very high-end resolution graphic specs so you'll be able to see in detail what the world is like, which kinds of expands on your exploration and your imagination. That's one way for 3DS players to further enjoy the game since it'll give them a bigger sense of the world.

Is there any particular detail that you really enjoy now that it's in HD?

In the game, when you're in the city parts and if you leave the game idle, it actually zooms out – you can see the environment further, but a lot of that is in high definition now, so you can see a lot more detail. It's really interesting to see the difference between the 3DS and this version now. That's one part I highly recommend people play attention to.

For the backgrounds, especially for the environments, we actually rebrushed everything so it hasn't been stretched out. It's actually been renewed and made clean, so that's something to look forward to as well.

How have you found it adjusting the game to fit a single screen? Have there been any major challenges?

On the 3DS, the bottom part of the screen is actually a touch screen where you can input your commands, and the top part is the battle screen. When it turns into one screen, you have to make sure that the UI doesn't cover up the battle screen or the character sprites, so placing them in a very comprehensive yet simple design was the most challenging for us.

How did the partnership with NIS America come about for the western release?

There's a very enthusiastic person within NIS America that really wanted to work on this game. Not only because of him, but as a company, we decided that we wanted to pursue this, and FuRyu thought that we would take very good care of the game, so they thought they would let us handle it this time.

Before The Alliance Alive, we also saw The Legend of Legacy on 3DS. What did the team learn from The Legend of Legacy that you were able to apply to The Alliance Alive?

The engine is actually the same for The Legend of Legacy and The Alliance alive, so the development went really quickly for The Alliance Alive.

The developers of The Alliance Alive have worked on some of the most iconic JRPG franchises of all time, like Final Fantasy and Suikoden. How has this legacy affected the development of The Alliance Alive?

The Alliance Alive has nine characters, but each character can be viewed as the main character. Each character comes from different backgrounds, different cultures, and they hold different values. They even come from different regions of the world. Within that, even though they're very different, their goal is the same. And since their goal is the same, they start to slowly come together and form a group. That's what's very different for The Alliance Alive compared to my previous games.

Between The Legend of Legacy and The Alliance Alive, you've made a name for yourselves for creating new RPGs in the tradition of genre classics. Do you intend on continuing in this direction?

We would like to keep on creating these classic JRPGs. It's really dependent on this title too. As long as we have a lot of demand for it, we'll keep making these kinds of JRPGs.

Given what we've seen with The Alliance Alive, do you have any interest in bringing The Legend of Legacy to new platforms?

I guess if there's a voice and there's demand for it, then yes. But as of now, no, we don't have any plans for it.

Do you have any words for new players jumping into The Alliance Alive for the first time?

First of all, the scenario is great. It's full of hope, and it's just a heartwarming game, so I would like people to experience the scenario. The gameplay – the tempo flows very well, and it's not too slow, not too quick. Even though it's a classic game, the game feels well-paced, and there's not a lot of systems that's very confusing. It's very straightforward, so it's easy to get into.

For those that have worked on development, what are your thoughts on the Switch?

One challenge that we faced for all platforms in general was since the resolution was higher, we could see a lot of the polygons and how it's not aligned or maybe intertwining with each other. Fixing that and cleaning it up was a challenge we faced when porting the game.

Since the screen size for the Switch and the 3DS are different, when we brought it over to Switch, sometime the side of parts would be showing something that wasn't supposed to be showing, so we had to move the camera angles and stuff like that.

Especially because Murayama-san is here with us today, I'd like to ask: do you have any favorite modern RPGs on the Switch?

Murayama: I personally don't actually play RPGs much. (Laughs) I actually enjoy games that old men play, like where you're shooting guns. Like your shirt—I play that.

(*Oni Dino was wearing a Splatoon T-shirt*)

Maybe we could see Murayama-san write the scenario for an Inkling shooter-RPG.

Murayama: I would love to do that. (Laughs)

Finally, would the team like to say anything to Nintendo players who are fans of FuRyu's and Cattle Call's work?

For Switch and PS4 users, if they haven't played the 3DS version, we'd like to say that the game feels original. It feels like it was made for these platforms, and it's like the original version of the game. Instead of thinking of it as a remaster or a port, if you can play it through like it's an original title, we hope that people enjoy it.

When first creating the game, we really focused on making a JRPG like JRPG – a heartfelt game. Maybe that's why Nintendo got fond of it as well, but we would like fans to really appreciate what's been put into the game. There's a lot of ambition in the game, so I'd like players to look forward to the game itself.
Leave a Reply