Inti Creates trying for physical Azure Striker Gunvolt for Switch in the west, talks Mighty Gunvolt Burst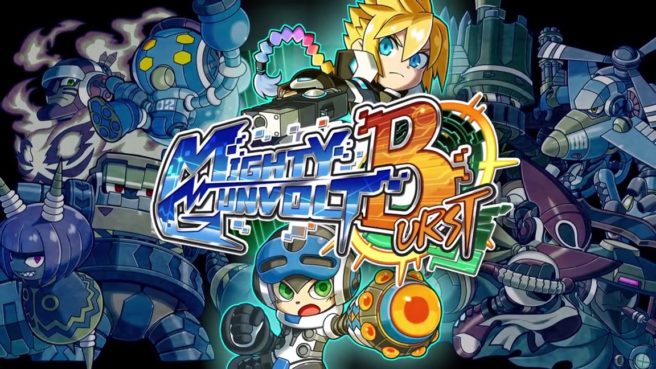 Inti Creates made two announcements last week. The first is that the Azure Striker Gunvolt: Striker Pack is coming to Switch, while Mighty Gunvolt Burst is in the works for both Switch and 3DS.
USgamer spoke with Inti Creates CEO Takuya Aizu following the news. For Azure Striker Gunvolt, Aizu spoke about how the Striker Pack came to be on Switch and confirmed that they're trying to release a physical version in the west. Aizu also confirmed that Mighty Gunvolt Burst will be adding more characters and spoke about how Mighty No. 9 isn't a direct influence on the game.
Read up on these comments from Aizu below. You can find USgamer's full piece here.
On how Azure Striker Gunvolt: Striker Pack came to be on Switch…
"We published the first Gunvolt on Steam, and that served as the base for the Switch conversion. We took the Steam version for ASG1 and then added all the DLC for AGS2 to make it a sort of game-of-the-year complete version.
On trying to get a physical release in the west for Azure Striker Gunvolt: Striker Patch for Switch…
"We have a physical version confirmed for Japan. It's going digital for America. We're looking to work with different publishers to get a physical release for America and Europe, but at the moment nothing is set. If you buy the Japanese version, you can play it in English."
On Ekoro being added later to Mighty Gunvolt Burst…
"For playable characters, this time around you're starting off with two, Beck and Gunvolt. As you mentioned, there were three characters in the original. So, as for Ekoro [from Gal*Gun], we're actually working on her right now, and the plan is that… when the game comes out, you can absolutely play as Beck and Gunvolt. After that, we'll be adding Ekoro to the game as soon as we possibly can. And we have many more characters to come."
On how Mighty No. 9 isn't a direct influence on Mighty Gunvolt Burst…
"The presence of the Mighty Numbers as boss characters might leave you with the impression that we're trying to create a connection to Mighty No. 9, but actually, it's more a matter of our director Ikegami having been involved in that game, too. It's actually been quite a while since all of our duties with Mighty No. 9 have been completed, and the truth of the matter is that we really love these characters. Ikegami probably more than anybody! We love these characters, and we want to give them a chance to appear in a game again. And the way to make that happen is with Mighty Gunvolt Burst.
"We made this game completely on our own, with no input from Keiji Inafune or Comcept. Basically, we said, 'We want to use these characters,' and they said, 'Go ahead!' We were happy that they gave us the OK to use these characters, for free. But in terms of the game itself, there's no involvement from Concept. This is a labor of love by Inti Creates with characters we really adore."
Leave a Reply