LEGO Super Mario dev on early designs, says Nintendo dropped prototypes 6,000 times in quality checks, more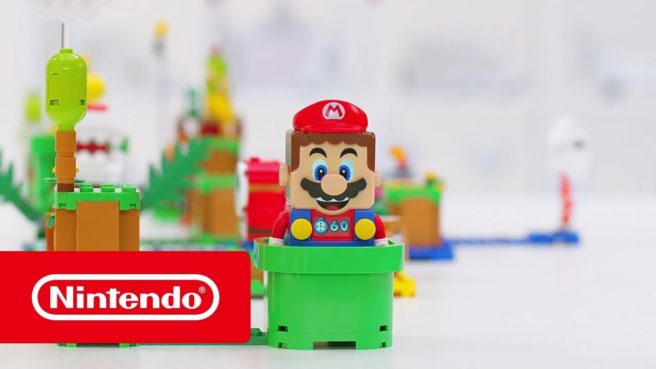 Nintendo Life has published a new interview with Jonathan Bennink, the lead designer on LEGO Super Mario. Bennink spoke about the earliest designs, how Nintendo dropped the product 6,000 times each time a new build was sent to them, approval for sound effects and getting new voice lines from Charles Martinet, and being able to have meetings with Koji Kondo – which usually doesn't happen.
Here's the full roundup of these topics:
On what LEGO Super Mario initially looked like…
You wouldn't recognize it, to be honest. Early on in the process we basically made eight kind of big ideas or opportunity spaces, and they ranged from like AR/VR themes to regular play themes. One of the opportunities was an interactive brick, just a small 3×3 brick with a display in it, and it was painted to look like Mario. And that was just something that none of the executive teams on either side had ever seen – interactive-character Lego bricks – so that got the most votes.
We made a prototype on both sides to show each other, and from there on it was mostly a gut feel of, like, this feels really good, it feels really fun and it allows the Nintendo DNA to be infused in the play somehow. Of course, back then we didn't know what the Lego play was: it was our biggest conceptual challenge. When you look at other technology-enabled toys, they are usually fun for, like, a week. But we wanted to build something that kids could enjoy for a longer time, and also where they could put their creativity into it.
On whether he knows how the collaboration started…
No, [but] I do know that they've been dancing around each other for quite a while. It just took the stars to align for the product development parts [of the companies] to come into contact. And when they met, that's when the ball really started to roll.
They had some initial talks, and they discussed mostly values, how they look at the world and what kind of products they're making. And they found quite a lot of similarities, as you can imagine, both on our target group, and also on the quality of the products and the safety of the products.
We never had a partner challenge us in safety and quality, and this was the first time! Every time we shipped a Mario to them, they dropped it 6,000 times. That is Nintendo quality – that was new for us!
On approval for sound effects…
Yeah, especially his voice. We had Charles Martinet record a few special lines. It was a cool moment when we received a sound file from the voice of Mario, specifically made for us! But I think Nintendo strikes a really nice balance between making sure that it's IP approved, but also they care about the end-user and the fun in it a lot.
On meeting with Nintendo…
Yeah! [Takashi] Tezuka-san is the creative leader over on Nintendo's side, and we were really honoured to have so much time with him, because two times a week we have a Skype call or Teams call. Then before coronavirus hit we had three or four workshops per year where they would come to Billund or we would go to Kyoto.
Nintendo really appreciated being able to play with Lego during the meetings! It was a lot of fun, we built a lot of levels together. Also, of course, we did a lot of brainstorming work, but it feels like a really close collaboration: some of the team are friends now.
It feels a little bit like a shortcut to all these great people who work at Nintendo. We had meetings with Koji Kondo about the sound, and you have to work at Nintendo for years before you can meet Koji Kondo! It was a great privilege for us to be able to work with our childhood heroes.
You can read the full interview on Nintendo Life here.
Leave a Reply