[Let's Talk] Bravely Default II reactions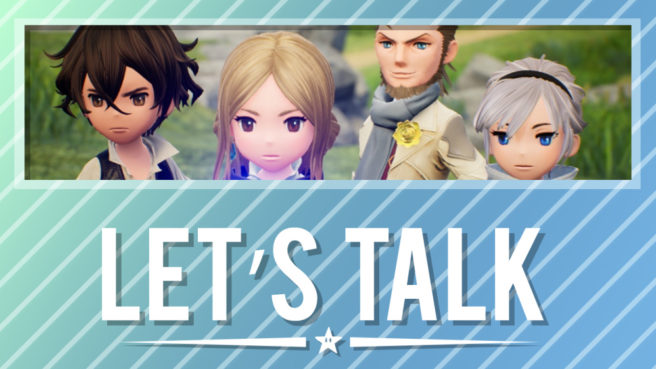 You could probably make the case that The Game Awards 2019 didn't go the way that many had expected. There was no new Smash Bros. character, Zelda appearance, or return of Bayonetta 3. Instead, new trailers for Marvel Ultimate Alliance 3 (DLC) and No More Heroes 3 debuted alongside the announcement of Bravely Default II.
It's that last game most people will be talking about. It's technically not a Nintendo game as the Big N is only publishing in North America and Europe, but having the Bravely series return (and on Switch) is noteworthy.
Although we haven't seen a whole lot of Bravely Default II, what are your thoughts so far? What do you hope to see in the new entry? What do you make of the name given Bravely Second on 3DS? Let us know in the comments below.
Highlights from last week's topic: What are you playing? – December 2019
Waji Hemisphere
Saga Scarlet Grace for the 3rd time. It's just that good.
Star Ocean FDR. It's better than I remembered. Still hope for 2nd evolution with Enami Katsumi's art style.
Slay the Spire regularly.
FF8, which has a far worse story than I remembered. It's so full of plot inconsistencies it's embarrassing.
DQ11S. Have to finish the "post game".
Hollow Knight's god seeker last trial.
Transistor almost finished.
I feel like going back to Into the Breach also.
NeptuniasBeard
Since December is a "down" month with no releases that interest me, I'm going back on some of my backlog.
Playing through Collection of Mana, Astral Chain, Luigi's Mansion, and going down the CF path of Fire Emblem
Ardisan
Just finished Dark Souls Remastered on PC so im now going back to my backlog.
Playing Daemon x Machina, Dragon Marked for Death, and finishing off Digimon Cyber Sleuth.
Leave a Reply