[Let's Talk] Nintendo Direct: E3 2021 reactions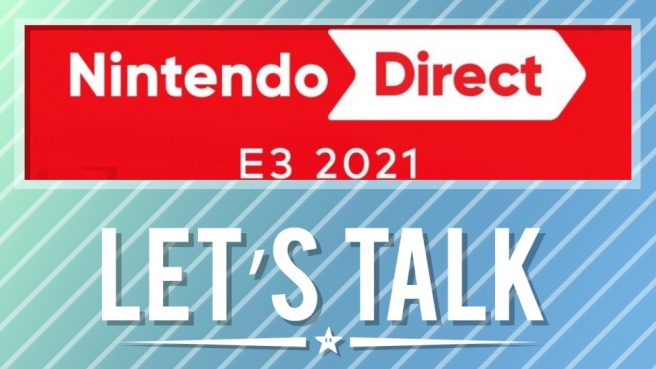 With how crazy things were last year, there was no E3 in 2020. Nintendo itself didn't even hold a traditional Nintendo Direct the entire year. Thankfully, we're slowly starting to return to some semblance of normalcy. E3 was back over the past week in a digital-only format, and that came along with a brand new Nintendo Direct.
Nintendo itself had a few different announcements during the show. Metroid Dread, Mario Party Superstars, Advance Wars 1+2: Re-Boot Camp, and WarioWare: Get It Together! are all coming to Switch over the next few months. We were also treated to a brand new look at Zelda: Breath of the Wild 2. Smash Bros. Ultimate revealed its latest fighter, adding Kazuya from Tekken. On the third-party front, we saw titles like Fatal Frame: Maiden of Black Water for Switch, Super Monkey Ball: Banana Mania, Life is Strange, Danganronpa Decadence, and Dragon Ball Z: Kakarot. Shin Megami Tensei V also finally showed off proper gameplay and confirmed a November launch. You can catch up on all of the news in the recap announcement here.
Now that the Nintendo Direct is over and a few days have gone by, how are you feeling about the presentation? What's your standout game of the show? Share your thoughts with us in the comments below.
Highlights from last week's topic: What are you playing? – June 2021
ThePerfectButt
Monster Hunter Rise with the wifey.
Crystalis on GBC
R-Type DX on GBC
Radiant Historia on DSi
Golden Sun on GBA
Earthworm Jim on GBA
Tetris Flash on DMG Gameboy
Dr. Mario on DMG Gameboy
FutureFox
MKD8. Fun beautiful game.
I tried Among Us (it was on the indie sale) and its definitely not fun playing with randos. In fact there's no fun to be had because people just keep hitting report and guessing or bail. Mind you I got it on steam.
Andrew
I've been bouncing between games, and have gotten into a bit of a Star Fox kick recently. I'm in the middle of Star Fox 2, and I'm thinking about upping my main score on earlier difficulties before jumping into the hardest difficulty mode. It's one of the few games I actively want to replay since individual stages are short, and if I need to, I can cheese it a little bit with the NSO save feature.
I genuinely wonder how this game would have been remembered if it did get to launch while the SNES was out. I can see the real-time mechanic blowing people's minds, and as basic as they seem, the visuals are very impressive for the system they appeared on.
andremiguens
On the PS4 I've been playing The Witcher 3. I'm about 85h in, halfway through Act II, almost 200 quests completed and only 2 Gwent cards missing. I'm enjoying the game, but I feel betrayed by all the people who spent years sucking up to it and neglected to tell me the myriad of bugs still present in it.
On the Switch I'm playing State of Mind. It's a great Quantic-Dream-lite game and I'm enjoying the story. After that I'll be visiting FFVIII (ironically in a physical cartridge) to continue my journey through the FF series.
On 3DS I'm revisiting Epic Mickey Power of Illusion and once I'm done I'll be revisiting Ocarina of Time. It was my first 3DS game in 2011.
MD
Lufia and the Fortress of Doom. I'm struggling to get through it, mostly due to motivation since there are too many broken mechanics to name. Also, boring game. Must… power… through…
Leave a Reply