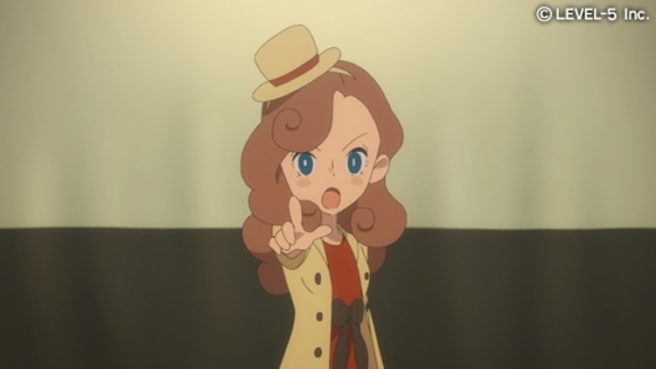 Even though Lady Layton was announced last July, we haven't heard much about it since then. Famitsu catches up with Level-5 CEO Akihiro Hino for an update of sorts this week.
Famitsu starts off by asking what parts are new compared to past entries. Hino points out that the protagonist has changed from Professor Layton to his daughter, Katrielle. Because of that, this game will have a female touch while keeping the series' atmosphere intact. Hino hope the game will show a brand new side of the franchise.
Also, puzzle-solving will deviate from the past style of solving a grand mystery. A new concept of a "high-speed comical puzzle solving story" is introduced, as it's a more daily life-like sensation where Kat will solve small mysteries happening in London.
As for when the story occurs chronologically, Hino wants to leave it everyone's imagination… at least for the time being. The timeline will become clear within Katrielle's story, so he hopes players will look forward to that.
Next, Hino took on a question about the relationship between Sharo (the dog assistant) and Kat. According to Hino, it's different from Professor Layton and Luke. If Professor Layton and Luke were "teacher and student", Kat and Sharo will be more like "detective and assistant"… or rather "boke and tsukkomi" (the comic and the straightener, the usual composition of Japanese comedy duos).
Kat will be like a funny person due to her fantastic imagination in solving puzzles, while Sharo will give clear and straight explanations of what Kat said. As a result, the story will be almost like a well-paced comedy. Additionally, Luke's appearance and his relations with Kat and Sharo have some points Hino can't reveal as of yet.
When the voice cast for Lady Layton was decided and the recording ended, Hino became confident that the company will have a good title on its hands. The team had actors and actresses like Kasumi Arimura, Koji Yakusho, Meisa Kuroki and Kentaro Sakaguchi to provide voices, and Hino thinks they made the characters more lively and warm.
Moving away slightly from Lady Layton specifically, Famitsu wanted to know how Hino feels about making a new Layton game with the series reaching its tenth anniversary. Hino responds by noting how the franchise was the company's first original work, as well as the first title published by Level-5 (in Japan). He's very glad Layton reached its tenth anniversary, and never thought he'd be creating a new entry at this point. Hino is thankful for fans' support. Lady Layton's production is going smoothly, and Level-5 will do its best to be a full-fledged title in the Layton series.
Finally, Hino touched on the recent "Lonely Layton" event held in Japan. It was intended to be a quirky event which was held on Twitter where he would call a small number of fans, but in the end it was packed with almost 100 people, so it was very fun. Hino didn't have many chances to directly talk with fans, but was able to have many heated conversations, so that became a very valuable experience. Many of them were also appreciative that the event was held. Hino wants to hold another event like this if he ever has the chance, so he hopes everyone would participate again.
Leave a Reply