Mighty No. 9 launches for Wii U in September, 3DS later, physical version, more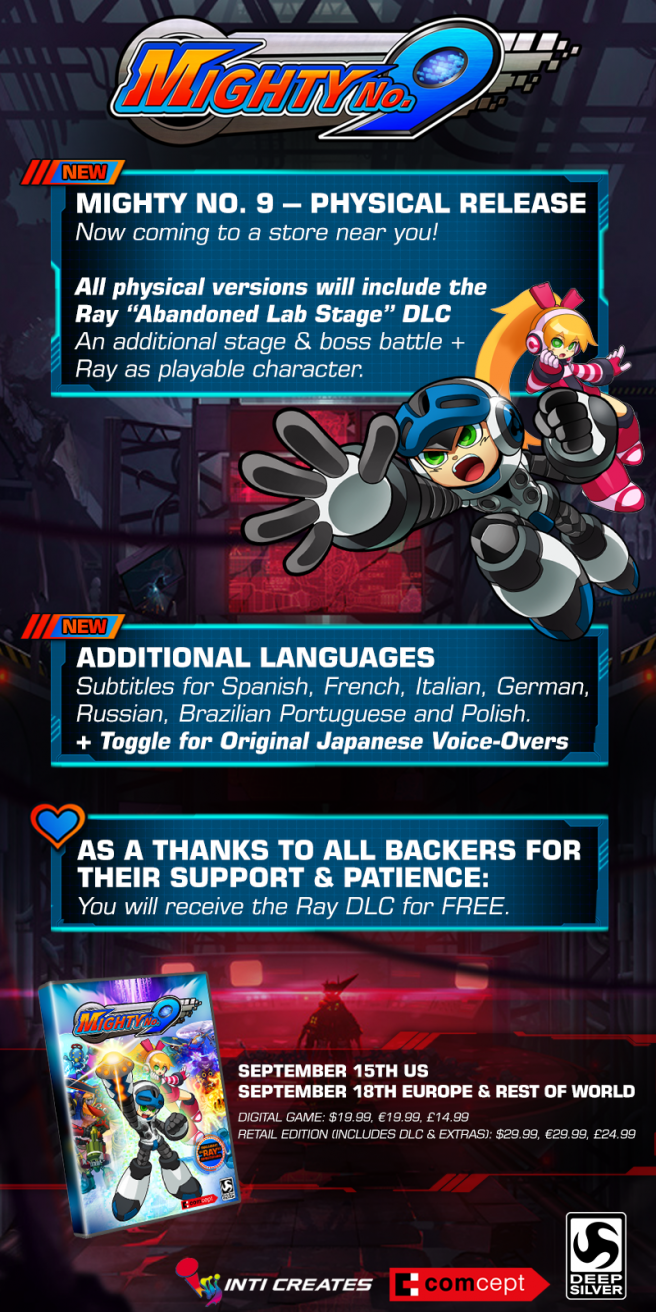 Mighty No. 9 launches for Wii U and other platforms on September 15 in North America and September 18 in other territories, Comcept announced today. Portable versions, including 3DS, "will follow at a later date." Today's announcement also confirms that Comcept has teamed up with Deep Silver for publishing duties, and the game will be sold at retail.
Comcept originally hoped to have Mighty No. 9 ready this spring, but the extra time and partnership with Deep Silver allows for extra things. The title will feature Japanese and French voiceovers, extra subtitles languages, and the entire Ray DLC set – featuring an extra level, boss, and playable characters. All of this content will be free to Kickstarter backers and those who purchase the physical version.
Head past the break for a Q&A explaining why Comcept partnered with Deep Silver, why Mighty No. 9 is delayed, and the 3DS delay.
Q: What does the Mighty No. 9 project gain from taking on a publisher?
A: To put it simply, we get to add a lot of content to the game and offer services to users that we couldn't offer before. Right now that includes the following:

????An additional stage, boss battle, and playable character in the Ray DLC (name TBD)
????Original Japanese and French voice-overs (in addition to the already-included English voices), and subtitles for Spanish, French, Italian, German, Russian and Polish languages!
????A packaged retail version of the game for certain consoles (currently Xbox One, PlayStation®4, Wii UTM, PC, Linux and Mac) And who knows, maybe more!

Q: What does this announcement mean for my Kickstarter/PayPal/Humble Bundle pledge?
A: The good news: As a backer you get all of the in-game content mentioned above… for free!
The not-so-good news: The game's release date is now September 15th, 2015.

Q: Why does Mighty No. 9 need to be delayed until September?
A: Pushing the release date to September gives us enough time to produce the additional features above, and even better, gives us more QA time to polish existing and upcoming content. We understand you have all been waiting anxiously to start playing, but we think the additional time will result in a more polished game for you to play.

Q: How does this partnership affect Mighty No. 9 as a franchise?
A: First and foremost, Comcept maintains total creative control over the Mighty No. 9 IP, both for this game and for any future titles. Partnering with Deep Silver has given us the resources to add even more content to our dream project, and help out with publicity and marketing so the developers can stay focused on making a great game. Frankly, we feel super lucky to have found a partner who understands our desires as game creators, and shares our passion for making this project the best it can be!

Q: Why didn't you mention that finding a publisher was a possibility before now?
A: Well, actually, we did! From the start we've mentioned the possibility of a publisher in the FAQ section of our Kickstarter page, and reiterated the sentiment in articles and talks at gaming events. The important thing was we were waiting for a partner that would not only help the project in the right way, but also protect and even add to everything we set out to do with our Kickstarter, including the fan involvement, backer rewards, and community aspects, and Deep Silver has offered all of that and more.

Q: As a Kickstarter backer, will my physical copy (disc) be the same as the one sold in stores?
The physical disc add-on purchasable through the Fangamer survey is separate from the one sold in stores, and as such is an item unique to our Kickstarter backers.

Q: So wait a sec – who all gets the extra Ray DLC for FREE?

???? All Kickstarter backers and slacker backers (whatever system they are playing it on, and whether they opted for the physical or digital version of the game): YES
????Non-backers who buy the physical version: YES
????Non-backers who buy the (cheaper) digital version: NO (though they can always buy it separately if they want!)

Q: Why are the handheld versions coming out after Sept. 15th?
The handheld versions were originally meant to be simpler ports, but we found that the amount of work necessary exceeded our expectations—the 3DS and Vita versions will actually require remaking the game from the ground up. Because of this development, the handheld versions will be released after the other versions.
Leave a Reply