Miyamoto talks combining elements from 2D/3D Marios for 3D World, game has "so many new ideas and surprises"; also not ruling out more Galaxy-like games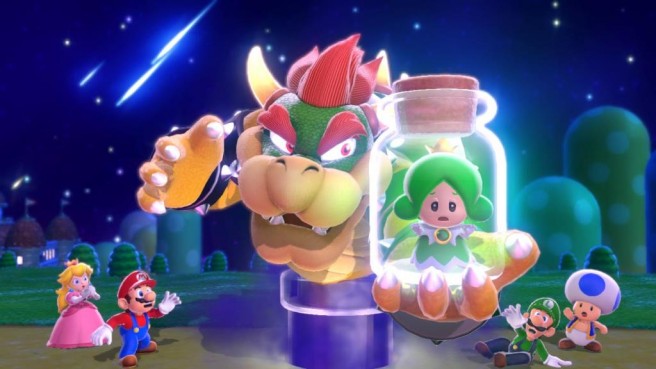 Shigeru Miyamoto has previously spoken about Nintendo's desire to lessen the gap between 2D and 3D Mario players. This is something he reiterated during a recent media session.
He said:
"The joy of a 3D Mario game for me is really that you're able to move freely in any direction and use lots of different fun actions while exploring a world. The joy of a 2D Mario game for me is that anyone can play these games and have a good time, even if it's their first time playing a game. There's a certain kind of simplicity to the concept of simply proceeding in one direction and reaching the goal."

"The first time I think that we brought all of these disparate elements from these two different series together was in Super Mario 3D Land. But in the case of Super Mario 3D World, I think that we've found a way to evolve further in incorporating all of these elements, or have reached another goal, if you will."

"Now that's not to say that we may not make more games in the vein of Super Mario Galaxy in the future. I'd certainly like to consider that possibility. But our goal right now is to expose as many people as possible to this type of gameplay in a 3D world. And I think what we've come up with here is the most balanced system in which to do this."
Later in the media session, co-director Kenta Motokura spoke about how the cat suit came to be:
"We talked about all of these ideas in terms of how players experience them. What do people find to be fun, what do people consider to be cute—and certainly that's one of the directions that took us to the cat idea. We talked about what people find to be scary. All of this was based on player experience."
A few more words from Shigeru Miyamoto: he says there are "so many new ideas and surprises" included in Super Mario 3D World.
"If you think about this game only in terms of the number of courses it has, which is similar to previous games, you're gonna miss out on the fact that there's so many new ideas and surprises contained within. Whether it's the ability to have multiplayer with your friends and family nearby, or how much fun you can have trying all sorts of different characters and the different ways that they can get through the levels and surprises within."
Leave a Reply