Moffitt on Metroid Prime: FF reception, amiibo supply, Nintendo shortages, Humble Nindie Bundle, more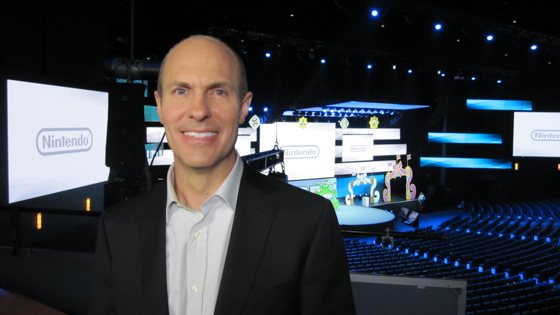 GamesIndustry published its own interview with Nintendo of America executive VP of sales and marketing Scott Moffitt. Metroid Prime: Federation Force, amiibo, shortages in general, and the Humble Nindie Bundle (not ruling out its own bundle) were among the topics discussed.
You can read up on what Moffitt had to say in this latest interview below. Be sure to check out GamesIndustry's original article here as well.
Downplaying the idea that Nintendo's E3 show was filling time before its other initiatives are ready…
"I wouldn't view it as a transitional year at all for us. At least, I don't think of it that way. We're bringing a plethora of great games to the market this year. We have 14 games we're launching between now and the end of the year, eight of them on Wii U and six of them on 3DS. They're great, bold, imaginative, transformational games… Our company is always moving on many different dimensions, but E3 is probably not the place to talk about a theme park experience, it's not a mobile game show. So a lot of those things are really better talked about and discussed at other times of the year. We focus on games, games, games. We make great games and we want to showcase those here and allow fans to play them."
On how different audiences want different things from the show…
"It's always a balancing act. You want fans to be enthusiastic about what's coming, but the focus is on what's going to be here-and-now. We have meetings with retailers where all they care about is, 'What am I going to be selling in my store this coming holiday?' They don't really care about a game that's going to be three years down the road. Those buyers may be on different desks; they'll be buying deodorant by then. That's an important constituency here at the show, as well as game fans and media."
On the reception of Metroid Prime: Federation Force…
"We love our fans. They're the most passionate, vocal group of fans I've ever seen, and we listen carefully to their opinions. We respect their opinions and their right to share those opinions with us. We try to make the best decisions we can with them in mind, but also with our content in mind, with our franchises in mind. A lot goes into the decision of which games to produce and which games not to produce. I don't pretend to know how all those decisions are made, but we certainly appreciate our fans' enthusiasm for the Metroid franchise. It's a franchise I love as well, and I hope they will find other games in the 14 we've announced at this E3 that they can play in the meantime while we all wait for the game we'd like to come out in the Metroid franchise."
On amiibo shortages…
"We're aware of the frustration game fans have had, and I'm empathetic with how difficult it's been to find some of the amiibo. We would love to be able to make enough for everyone that wants an amiibo to be able to buy it. And we are making them in greater and greater quantities. Every wave we release, we're trying to do a better job estimating the demand and producing enough to satisfy it."
– Nintendo is trying to be more transparent with fans about when new quantities of rare amiibo will come out
– Nintendo is also working with retailers to institute policies that would limit each customer to buying at most two of any given character
On Nintendo shortages in general (GameCube adapter, etc.)…
"We read demand signals from all sources. Pre-sell is a great indicator of potential demand. On some things, our supply chain is just quite long. On other things, it isn't. On Wii U game discs, if you look at our biggest launches last year–Mario Kart 8, Smash Bros. for Wii U–no issues. But on things like amiibo, or sometimes adapters or controllers, there's just a longer lead time. We do the best we can to anticipate demand, but we don't have a perfect crystal ball. We don't always anticipate the right number. But we try to strike that balance of having enough to sufficiently satisfy demand but not to have too much. It's just an inexact science, but we try to use every form of demand signal we can: pre-sale numbers, Google search trends, everything to anticipate what the true demand's going to be."
– Moffitt says Nintendo has improved its production processes with amiibo
– He also believes Nintendo will be in a much better position to meet demand by the launch of Animal Crossing amiibo Festival
"It's really our third platform. Certainly, creating great games is what we're best at. But it's added an important new dimension to gameplay that our developers have really embraced. It's still not our core franchise, not our core business, but it's a nice third platform that allows us to innovate and bring new ideas to satisfy creativity in our developers, but also allow our game fans a new kind of gaming experience. But I wouldn't say it's our core platform."
On how the different toys-to-life offerings aren't chasing after the same audience…
"Certainly as new entrants come in, it tends to grow a business to a point, and then it gets over-crowded. But what we're seeing with amiibo is we've expanded the big demographics of the typical toys-to-life consumer to be older, and that's a good thing for the whole toys-to-life category. The second thing we're seeing is retailers are continuing to expand the space that's dedicated to toys-to-life. That's all good for the category, and I think it will continue to have a good holiday. The thing I would point out to your readers is that the Wii U is the platform of choice for toys-to-life gaming. It's the only place you can play all of the platforms. That's exciting and I think we want to continue to be the destination for toys-to-life gaming."
– Moffitt said Nintendo was pleased with the results from the Humble Nindie Bundle
– Not ruling out a future bundle using Nintendo's first-party titles
– Price erosion remains a concern
"Our developers work hard on games. It's expensive to develop games, and the value of software needs to be respected and kept high. It's a concern with everything we do, all the way through to creating hardware bundles for the holidays. It's a factor in all of those decisions. It's very important for us to keep the value of software high."
Leave a Reply