Monster Hunter movie director on why the main character is from our world, Capcom's involvement, sequel chances, more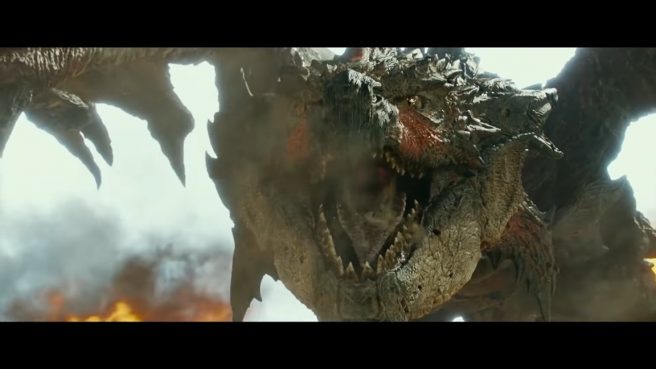 Monster Hunter movie director Paul W.S. Anderson recently opened up about the film in great detail. Anderson spoke about some of the finer points about the project and its creation.
After a number of Resident Evil movies, Anderson is teaming up with actress Milla Jovovich once again. Jovovich plays the role of a U.S. Army Ranger, who falls through a portal and ends up in the Monster Hunter world. Regarding the character as well as the decision to have her come from our world, Anderson explained:
"It's a very, very different character for her to play. She's never played a character like this before. When you play the video game, you play an unnamed hunter. I wanted to kind of recapture the feeling of when I first played the video game. I came to the game not knowing anything about it. And as a stranger, I was immersed in this world containing these amazing landscapes and these amazing creatures that would kick my ass. And I thought, 'I want that. That should be the film going experience as well.'"

So in many ways, Milla is the avatar for the audience. She's the newbie going into this world. She's the person from our world that knows nothing about the Monster Hunter world that's going in for the first time. And what's nice for the game players about that is that it kind of recreates your first experience when you first played Monster Hunter. But also what's nice is that it doesn't exclude anyone, because if you don't know anything about the game, she's the character that goes, 'Oh my God! What are these creatures? What is this world? How does it work?' And then you have characters like Tony Jaa's character or Ron Perlman's character who are characters from the video game who know everything about that world, and basically take her under their wing and have to educate her.

She plays a kind of fierce warrior from our world, but the skills she's learned as a U.S. Army Ranger, which is badass in our world, those skills don't mean too much when you're fighting these 50-foot tall monsters, and all of the weaponry that would be very useful against a bunch of human beings, it doesn't quite work so good against a Rathalos and Diablos, so she has to learn a new way to fight, and she has to learn how to cooperate.

I feel that's one of the main themes of the video game that I really liked – cooperation is key, you have to fight with other people, you have to cooperate with other people to bring down these big creatures. I think that's a good message for our world right now. We live in such a divisive world where people are kind of closing off their borders and closing off their minds, that to have a movie that in the most fun way possible basically tells you that people from different cultures, from different backgrounds need to cooperate for the greater good, for me that's a good message for our times."
Another important topic discussed is Capcom's involvement. Based on what Anderson had to say, it sounds like the company was involved in almost every step of the process.
He shared the following:
"We talked through the script and what that would contain, what creatures would be in the movie, which landscapes would be in the movie. When we were designing the costumes we'd send photographs of all of the costumes to Japan and they'd say, 'The hunters collar should be a little smaller. The admiral's axe could be a bit bigger.' Everything was run by them. They got input into absolutely everything. In the process of making the movie, I would fly to Japan with rough cuts of the fight sequences with the creatures.

The actual game animators would comment on the movement of the creatures – 'the movement of the creature isn't exactly right here, the creature would be a little lower, the stance should be slightly different, the toenails of the creature are too pointy.' That was a great note. I'm like, 'Oh my God, you're looking at the toenails of the creatures?' …They cared enough to look at the toenails and what they exactly look like, and we took all the notes because we wanted it to be for fans of the game for us to put these creatures on the screen as accurately as possible, so across the board it was the cooperation. And it was great, because I'm coming to it as somebody who is a fan of what they created, so it's nice to kind of pay service to that and do justice to it."
Anderson also spoke about his personal love for Monster Hunter and how he picked up the movie rights ten years ago. This was well before the series had established global success.
According to Anderson:
"I think Capcom knew that turning their game into the most successful video game franchise ever, they were getting a good set of hands, but also a passionate set of hands as well. When Monster Hunter World came out and sold 15 million copies a year and a half, two years ago, every studio in the world was chasing Monster Hunter because suddenly they were like, 'Big sales! Let's go grab it!' And they were all disappointed to discover that I already had the rights to it. But I pursued the rights when no one knew about it outside of Japan, and I think also that passion for that project I think is something that Capcom really respected. And then also I think the passion that I brought to it and the closeness of my relationship with the creator of the games as well. We worked very closely with Capcom on this one – much closer than any other movie I've made. They were very, very involved with it. I think they right the way along throughout the 10-year process they could feel the passion to make this outstanding movie."
While Anderson didn't really go into the types of creatures we'll see in the movie, he did confirm that Palicos will be present. One character that will appear is the Meowscular Chef "who has this rather flirtatious relationship with Milla".
Finally, could we eventually see a sequel to the Monster Hunter movie? Anderson did say that this was his "favorite movie of any movie in my career to make" and "it's definitely a world that I would love to continue exploring". However, he was quick to mention that they "always take it one movie at a time" and want to see the first movie through "before consider doing anything else.
Leave a Reply