Monster Hunter Rise director on how the Sonic collaboration came to be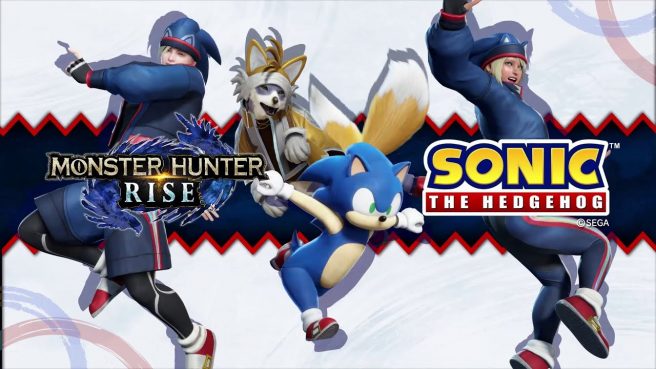 Monster Hunter Rise features a variety of different crossover event quests and had guests from other Capcom properties like Street Fighter, Okami and Mega Man, but there was one collaboration in particular that stood out: the Sonic the Hedgehog 30th Anniversary quest. In an interview with Nintendo Dream, director Yasunori Ichinose explained how Sonic fans on the team prepared and submitted different ideas to SEGA, who ultimately greenlit the collaboration.
We've translated Ichinose's account of the crossover below.
Sonic was one of the many crossovers that make an appearance in-game. It was surprising to see Sonic shaped Buddies, was that an idea from the Rise team?

The collaboration was made possible through our producers approaching SEGA. The design was done by Sonic fans on our team, and I think they did a great job with a lot of smaller details. We submitted a number of ideas to SEGA, they approved a lot of them and we made them a reality. We also submitted the songs we wanted to use in-game – it was great to be able to have Sonic music playing while out on a quest.

Was the ring collecting part of the ring collection quest something that was newly made for Rise?

It was more like a re-modelling of the Golden Spiribug, something the team was very enthusiastic about. We wanted to make it look like Sonic, so we decided to base it around collecting rings. During our playtests, people tried to see how fast they could clear it, which was a lot of fun. Not only that, but I thought it would be better to have quests where you interact with the monsters in some way, so we added the Nargacuga quest as well.

Could you talk a bit about the Sonic equipment?

There was also the idea of a hunter in a Sonic suit, but that didn't work because of concerns we had about body shape among other thing. We incorporated Sonic's speed into a kind of sportswear that exists in the world of hunters. The Hunter costume color scheme brings out Sonic's key colors and Palamutes bring out Tales' key colors. There is a lot of heavy armor in the world of Monster Hunter, so it's nice to see some casual clothing too. They're broken down into armor parts, so players can make their own outfits, and I think it's a costume that can be used for a long time to come. I really wanted to have Sonic himself make an appearance, and I thought it would be great if I could achieve this through dressing up as Felynes, who have a similar body shape to Sonic. They still move like Felynes at the end of the day, so it's a much more hunched-over Sonic (laughs). We added playful motions like Sonic running or transforming into Super Sonic to make the game as close to Sonic as possible.
Monster Hunter Rise is currently available on Switch. Its expansion, Monster Hunter Rise: Sunbreak, the game's major expansion, is also out now.
---
Translation provided by Jarop on behalf of Nintendo Everything.
Leave a Reply