Nintendo Access: Mario Maker @ Best Buy – a look at the button, pre-order 2 games for 7-button set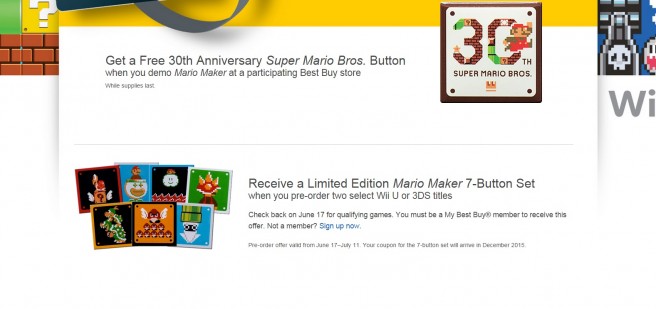 Coinciding with Nintendo's E3 2015 plans, Best Buy locations across the United States will have a playable demo of Mario Maker. Those who try out the game will be given a special 30th anniversary Super Mario Bros. button. Our first look at it is pictured above.
Best Buy will also be offering consumers a limited edition Mario Maker 7-button set. This will be available to those who pre-order two select Wii U/3DS titles (full list to be announced soon) between June 17 and July 7.
Participating Nintendo Access: Mario Maker @ Best Buy locations can be found here.
Side note: as some of you have pointed out on Twitter, this image seems to give us a first look at Bowser Jr. in 8-bit and Mario in the Koopa Clown Car!
Leave a Reply