Nintendo Direct: E3 2018 live stream, live blog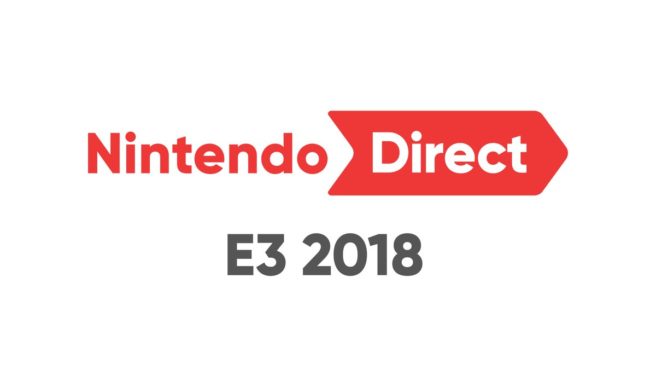 E3 will be opening up its doors very soon, but before the expo officially begins, Nintendo is closing out this week's round of presentations with a Nintendo Direct. The show starts at 9 AM PT / 12 PM ET / 5 PM in the UK / 6 PM in Europe. You can watch the Nintendo Direct live below.
Super Smash Bros. for Switch is obviously a sure thing here. Nintendo hasn't confirmed any other titles, but possibilities include Pokemon: Let's Go, Pikachu / Eeevee, Fire Emblem, Yoshi, Metroid Prime 4, and others.
We'll also have a live blog going below, which I'll be passing over to Josh if all goes well. New announcements will be added to the site as they come in, with full coverage to follow the rest of the day and through Thursday.
Live stream
Live blog
Daemon X Machina
– Big robots
– Lots of combat
Xenoblade Chronicles 2: Torna: The Golden Country
– New DLC for Xenoblade 2 that seems to offer even more story.
Pokemon: Let's Go Pikachu and Let's Go Eevee
– For the first time ever, battle with a friend on the same console.
– Pokeball Plus comes with a Mew inside.
– Available on November 16.
Super Mario Party
– Play with multiple Switch systems.
– Looks to have a traditional board-and-dice format, unlike games 9 and 10.
– Seems to have a lot of characters, like Bowser Jr., Diddy Kong, Goomba, et cetera.
– Coming October 5.
Fire Emblem: Three Houses
– A new Fire Emblem game (obviously) which seems to combine a new graphical style with traditional topdown combat.
– Formation of military units seems to be a big theme.
– Coming Spring 2019.
Fortnite
– It's coming to Switch, confirmed.
– Play for free at 10AM Pacific Time today.
Overcooked! 2:
– New multiplayer actions.
– Coming August 7.
Killer Queen Black:
– Multiplayer retro experience.
Hollow Knight:
– Coming to Switch.
Super Smash Bros. Ultimate:
– Showcasing new fighters! Listed below:
– Ice Climbers, Inkling, Pokemon Trainer, Snake, Pichu, Young Link, Wolf.
– EVERY FIGHTER OF ALL TIME HAS RETURNED.
– Lots of different skins. Mario gets his builder outfit, for instance. Link gets his basic costume as well as Breath of the Wild. Pikachu can be female.
– Tweaks were made such as making Ryu always face his enemy, Samus's charge shot being a thing in the air, and the landmaster being retired.
– Final Smashes being made more powerful. King Dedede, Pac-Man, et cetera got speed and power boosts.
– Dramatic slow-mo attack on strong attacks such as Falcon Punch.
– Displays things such as Villager's item, Robin's charge left on tomes, et cetera. More displays on the HUD.
– Shulk can change Monado arts more easily.
– There are a lot of small tweaks. I recommend you just watch the video.
– DAISY IS COMING. She's a Peach clone.
– Inkling info: Opponents take more damage when inked. Different weaponds are used during specials and smash attacks. Final smash is Killer Wil. You can run out of ink, so press B while shielding to recharge.
– Assist Trophies: Bomberman, Burrowing Snagrek, Suckapon.
– New Pokeballs: Bewear, Solgaleo.
– Items: Launch Star, Fake Smash Ball.
– Stages: Spear Pillar returns. Kongo Falls, too. Peach's Castle. Spirit Train. Friagate Orpheon. Green Hill Zone. New Pork City. Wrecking Crew. Tortimer Island. Moray Towers.
– New Stages: Great Plateau Tower, where the King sits in the background.
– All stages now have Battlefield modes as well as FD modes.
– Directional Air Dodge has improved and mobility has been enhanced.
– Excessive dodging makes you vulnerable! Excessive dodging is bad, and makes you vulnerable!
– Short hopping: Perfect frame it by jumping and pressing A.
– Time your shield perfectly by releasing shield button right after pressing.
– They're remaking Gamecube Controllers! All Amiibos are compatible, even if from a different series!
– Seriously guys, just watch this if you can. There's a lot of info.
– Ridley is now a character! Ridley also literally murders Mario and Mega Man in its trailer.
– COMING DECEMBER 7, 2018.
Leave a Reply