[Nintendo Everything Podcast] – episode #101 – F-Zero: Dancing All Night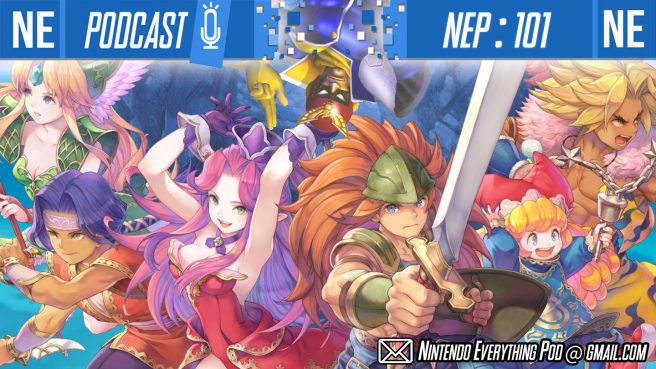 This week on Nintendo Everything Podcast, Galen can't play Minecraft Steve while Oni Dino appreciates mediocre JRPGs. Galen also shares his thoughts on the Baldur's Gate 3 early access stuff going on. Good-Feel is teasing a new game for Switch with a Japanese aesthetic, and we discuss if Metroid Prime Trilogy HD is ever gonna happen. Speaking of, will another F-Zero ever happen? Oni Dino has some ideas for a himbo Captain Falcon in a No More Heroes-like game where fighting is replaced with racing.
We've recently created a podcast discord for listeners to chill, chat, and make friends. Check out links and timestamps below and come hang out.
If you're enjoying NEP, please consider giving us a 5-star review on Apple Podcasts and share us with a friend. It's incredibly helpful in getting us exposed to new listeners through algorithms, so we would greatly appreciate your help. Thank you for listening to our Nintendo podcast!
Podcast Discord: http://tiny.cc/NintendoEverythingPod
Timestamps:
– 07:54 – Adventure Log: Minecraft Steve in Super Mash Bros Ultimate
– 15:43 – Adventure Log: Trials of Mana
– 24:50 – Adventure Log: Baldur's Gate 3
– 46:25 – News: Atelier Ryza 2, Good-Feel
– 1:03:14 – Additional DLC
– 1:10:45 – Listener Mail: Metroid Prime Trilogy, F-Zero
Additional DLC:
– Ducks Having a Conversation
https://youtu.be/xJVwvq5z3MI
– Haunting of Bly Manor
Business inquiries and listener mail contact:
#nintendopodcast #gamingpodcast #podcast
YouTube
Apple Podcasts / iTunes: https://apple.co/2xLl0C5
Spotify: https://spoti.fi/2Gdgoch
Direct Download
PocketCasts: https://pca.st/IQVa
Stitcher: https://bit.ly/30uxOZR
PlayerFM: https://bit.ly/2yfCu9P
ListenNotes: https://bit.ly/2SINTbG
PodTail: https://bit.ly/2yfDgDL
Oni Dino's Twitter: @Oni_Dino
Oni Dino's Insta: Oni__Dino
Galen's Twitter: @mobius087
Galen's Insta: true_mobius
HUGE thank you to Headphones of Listening for NEP's intro music! Check him out on soundcloud!
Ending by Vector U
Leave a Reply