[Nintendo Everything Podcast] – episode #52 – Body pillows are not a anime, Pokemon evolution leaks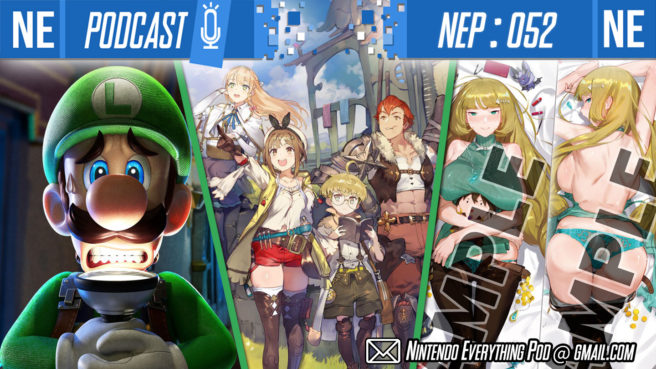 Hello, my Fatal Cuties! This week on NEP, we got hit with some Pokemon leaks while recording, but we keep our reactions spoiler-free. We chat some great games we've been playing with Atelier Ryza, Luigi's Mansion and more, then we muse on 3DS games we'd like to see make the jump to Switch. Somehow, we end up arguing with each other over Ocarina of Time and Majora's Mask. How. How even did that happen. Come have a chill game time with us.
If you're enjoying NEP, please consider giving us a 5 star review on Apple Podcasts, aka new iTunes. It's incredibly helpful in getting us exposed to new listeners through algorithms, so we would greatly appreciate your help. Thank you for listening!
This week, the podcast is sponsored by Koei Tecmo. Check out Atelier Ryza: Ever Darkness & the Secret Hideout, out now on Nintendo Switch.
Timestamps:
7:11 – Adventure Log: Atelier Ryza, Luigi's Mansion 3, Dusk Diver, stories of our past and localization.
46:43 – News: Pokemon leaks, but we're spoiler sensitive about it! Don't worry. Spoiler-free.
53:22 – News: Nintendo's quarterly financial results and briefings. Million sellers, big numbers, Fire Emblem Three Houses killin' it! Link's Awakening big number go strong.
1:08:56 – Let's muse on what 3DS/handheld franchises we want to see make their way to Switch! And then Oni and Galen have a fight about Ocarina of Time and Majora's Mask.
1:23:45 – Rumor: Terry Bogard Smash debut imminent? Fatal Cutie?
1:28:41 – Additional DLC
1:31:30 – Listener mail: games we've spent waaay too much time on. And Australia stories.
Send us an email and we'll discuss it!
[email protected]gmail.com
Additional DLC:
Listener Bonus: Help the show grow and support us by giving us ☆5 STAR☆ iTunes review! Thank you!
YouTube
Apple Podcasts / iTunes: https://apple.co/2xLl0C5
Spotify: https://spoti.fi/2Gdgoch
Direct Download
PocketCasts: https://pca.st/IQVa
Stitcher: https://bit.ly/30uxOZR
PlayerFM: https://bit.ly/2yfCu9P
ListenNotes: https://bit.ly/2SINTbG
PodTail: https://bit.ly/2yfDgDL
Oni Dino's YouTube "Gayme Married": https://bit.ly/2JK21xd
Oni Dino's Twitter: @Oni_Dino
Oni Dino's Insta: Oni__Dino
Galen's Twitter: @mobius087
Galen's Insta: true_mobius
HUGE thank you to Headphones of Listening for NEP's intro music! Check him out on soundcloud!
Leave a Reply