[Nintendo Everything Podcast] – episode #6 – VGAs, Marvel and Smash Ultimate take our hearts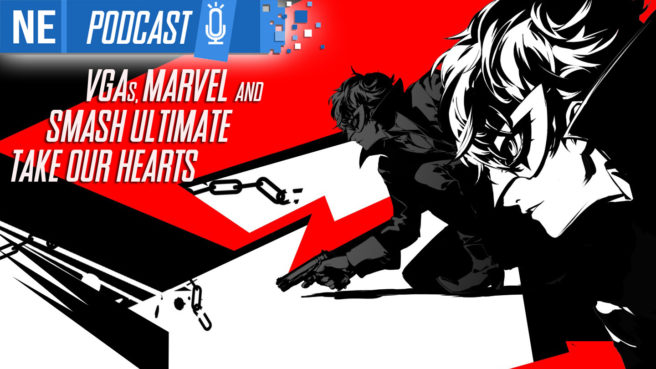 Hello and welcome to the sixth episode of the Nintendo Everything Podcast!
This week we've got a ton of news and pop-offs from The Game Awards 2018 and Super Smash Bros. Ultimate launch, and we have a surprising amount of Dragon Quest discussion across three different games on the Nintendo Switch.
Check out the timestamps below for more info!
Also in this episode, Eric becomes a linguistic maverick who transforms "hyperbole" into "hyper-bowl" and tries to convince Oni to care about Fortnite. Will he succeed?
Timestamps:
00:13 – We are kids. We are squids.
00:59 – Adventure Log: Dragon Quest Builders 2 demo is meaty and refined in every way!
16:07 – Adventure Log: Dragon Quest Heroes 2 for the Switch is good and different from other Warriors games.
21:40 – News: Dragon Quest XI S presentation on December 22nd announced! Does this game exist even?
25:44 – News: Sayonara Wild Hearts by Simogo announced exclusively for Nintendo Switch! A "pop album video game" and Oni cannot contain himself.
32:50 – News: VGA mega announcement sizzle reel! Crash Racing, Stranger Things 3, Dauntless, Fortnite expansion and new season, Mortal Kombat 11.
45:07 – News: Marvel Ultimate Alliance 3 exclusively for Nintendo Switch. Developed by Team Ninja, Published by Nintendo- It's ABSURD. What universe are we living in?! Thanos has the answer.
54:32 – News: JOKER announced for Smash Bros. Ultimate DLC. He'll Take Our Hearts and Our Wallets!
1:06:05 – News: Eric blows Oni's mind with a reminder of JOKER amiibo. That's a good blowout.
1:07:12 – Listener Email! Smash discussion! Favorite newcomers, mains, and the breadth of content!
1:17:31 – Next week sneak-peek and what's coming up on Nintendo Everything!
Listener Bonus: Escape from Master Hand's five fingers by giving us a ☆5 STAR☆ iTunes review, likes and comments on YouTube, and share the Spotify playlist with your Nintendo-loving brethren!
Thanks for listening!
YouTube
iTunes
https://itunes.apple.com/podcast/nintendo-everything-podcast/id1441241130?mt=2
Spotify
https://open.spotify.com/show/0zifaLm4st7KtUzDEojWBh
Direct Download
News discussed:
Follow Us, We Tweet!
@NintendoNumbers
@Oni_Dino
@NinEverything
And a HUGE thank you to Headphones Of Listening for our NE podcast intro/outro music!
Check him out on soundcloud!
Leave a Reply