[Nintendo Everything Podcast] – episode #62 – The Pokemon Direct DLC Toxicity Spectacular!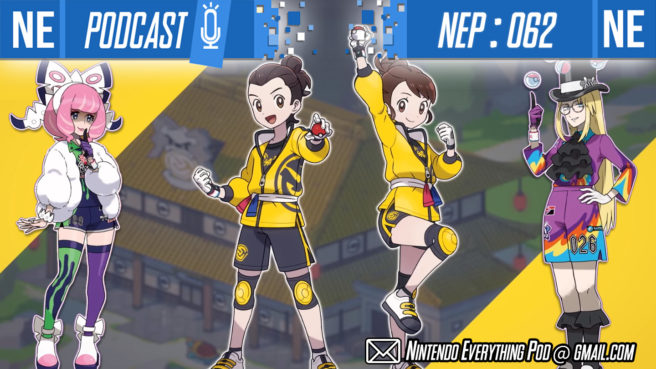 We're back in the saddle with the first regular episode of 2020! This week on NEP, we're covering the big Pokémon Sword and Shield Direct, the negative response, and trying to make sense of something when we don't really have a dog in the fight. We also accidentally talk about Star Trek and Star Wars a bit, too? Why? Oni Dino probably has the worst take you've ever heard involving Pokémon and Star Wars. But also the "Great Oni Dino x Galen Argument of 2020" has already begun with the incendiary question: is Pokémon now a games-as-a-service game? We're on opposite sides of the ring, ready to duke it out.
If you're enjoying NEP, please consider giving us a 5 star review on Apple Podcasts, aka new iTunes. It's incredibly helpful in getting us exposed to new listeners through algorithms, so we would greatly appreciate your help. Thank you for listening!
Timestamps:
02:40 – Adventure Log: The Witcher 3
13:21 – Adventure Log: Star Ocean First Departure R
25:21 – Pokemon Direct discussion! Mystery Dungeon remake! DLC expansion pass! Fan backlash! Toxic fandom!
1:08:15 – Additional DLC
1:12:21 – Listener Mail: Unique experiences with games that we'll never forget, even if the games weren't the best.
Additional DLC:
Business inquiries and listener mail contact:
NintendoEverythingPod@gmail.com
#nintendopodcast #gamingpodcast #podcast
Listener Bonus: Help the show grow and support us by giving us ☆5 STAR☆ iTunes review! Thank you!
YouTube
Apple Podcasts / iTunes: https://apple.co/2xLl0C5
Spotify: https://spoti.fi/2Gdgoch
Direct Download
PocketCasts: https://pca.st/IQVa
Stitcher: https://bit.ly/30uxOZR
PlayerFM: https://bit.ly/2yfCu9P
ListenNotes: https://bit.ly/2SINTbG
PodTail: https://bit.ly/2yfDgDL
Oni Dino's YouTube "Gayme Married": https://bit.ly/2JK21xd
Oni Dino's Twitter: @Oni_Dino
Oni Dino's Insta: Oni__Dino
Galen's Twitter: @mobius087
Galen's Insta: true_mobius
HUGE thank you to Headphones of Listening for NEP's intro music! Check him out on soundcloud!
Ending song by I am Jemboy on YouTube.
Leave a Reply