[Nintendo Everything Podcast] – episode #64 – Pre-order cancel culture, Killer Queen Black interview feat. Matt Tesch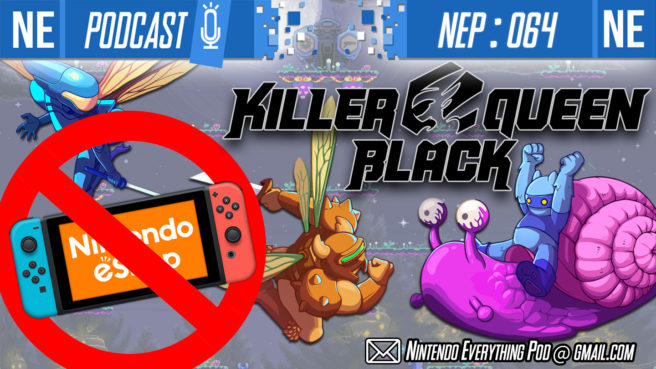 Hello, kids and squids! We apologize for the late episode this week, but we've got a really great one. This week on NEP, we're joined by Matt Tesch from Liquid Bit of Killer Queen Black fame. He's talking with us about their fascinating history on how this small arcade cabinet came to be an online competitive co-op phenomenon. It's a really inspiring story that we're excited to share with you. In addition, Galen and Oni Dino cover Nintendo's controversial lawsuit win against Germany and Norway regarding the inability to cancel eShop pre-orders. Plus, Galen takes any shred of Mega Man Battle Network news he can get.
If you're enjoying NEP, please consider giving us a 5 star review on Apple Podcasts, aka new iTunes. It's incredibly helpful in getting us exposed to new listeners through algorithms, so we would greatly appreciate your help. Thank you for listening!
Timestamps:
04:31 – Interview with Matt Tesch of Liquid Bit, co-creators of Killer Queen Black on Nintendo Switch
41:55 – News: Nintendo wins lawsuit against Norway and Germany regarding inability to cancel digital pre-orders. Bad for consumers? Bad for the industry?
57:50 – Additional DLC
59:20 – Listener Mail: Daemon X Machina love
Additional DLC:
Business inquiries and listener mail contact:
[email protected]gmail.com
Listener Bonus: Help the show grow and support us by giving us ☆5 STAR☆ iTunes review! Thank you!
YouTube
Apple Podcasts / iTunes: https://apple.co/2xLl0C5
Spotify: https://spoti.fi/2Gdgoch
Direct Download
PocketCasts: https://pca.st/IQVa
Stitcher: https://bit.ly/30uxOZR
PlayerFM: https://bit.ly/2yfCu9P
ListenNotes: https://bit.ly/2SINTbG
PodTail: https://bit.ly/2yfDgDL
Oni Dino's YouTube "Gayme Married": https://bit.ly/2JK21xd
Oni Dino's Twitter: @Oni_Dino
Oni Dino's Insta: Oni__Dino
Galen's Twitter: @mobius087
Galen's Insta: true_mobius
HUGE thank you to Headphones of Listening for NEP's intro music! Check him out on soundcloud!
Leave a Reply