[Nintendo Everything Podcast] – episode #72 – Animal Crossing impatience, indies, LGBTQ+ representation in games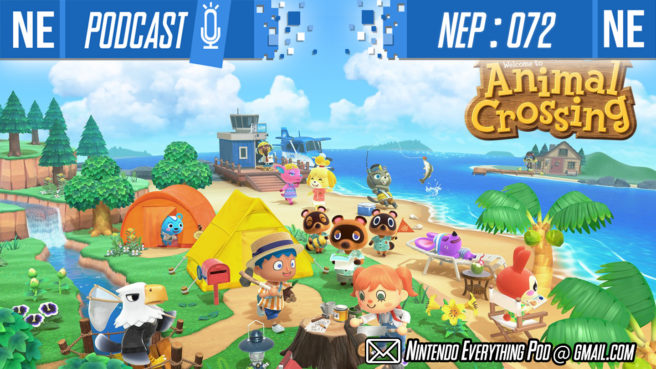 Hello my independent gamers! This week on NEP, it's Animal Crossing time! First impressions on New Horizon, followed by demo talk on Trials of Mana and how Square Enix is remaking two great JRPGs very, very differently. Then we celebrate Nindies in the Indie World Presentation, and close out the show by discussing if there's any good LGBTQ+ representation in video games. Spoiler alert: there's very little of it.
If you're enjoying NEP, please consider giving us a 5 star review on Apple Podcasts, aka new iTunes. It's incredibly helpful in getting us exposed to new listeners through algorithms, so we would greatly appreciate your help. Thank you for listening!
Timestamps:
05:53 – Adventure Log: Animal Crossing New Horizons with Galen's wife, Mary!
24:30 – Adventure Log: Trials of Mana demo! A totally different take on a Square-Enix remake. Lower budget and more successful? How does it compare with Final Fantasy VII Remake demo.
41:04 – Adventure Log: Sky Rackets! Indie from the Indie World Showcase!
54:29 – Adventure Log: Murder By Numbers. Better off dead?
1:09:11 – News: Indie World Showcase! Let's highlight some!
1:27:47 – Additional DLC
1:30:21 – Listener Mail: Is there any good LGBTQ+ representation in video games/media?
Additional DLC:
Business inquiries and listener mail contact:
[email protected]gmail.com
Listener Bonus: Help the show grow and support us by giving us ☆5 STAR☆ iTunes review! Thank you!
YouTube
Apple Podcasts / iTunes: https://apple.co/2xLl0C5
Spotify: https://spoti.fi/2Gdgoch
Direct Download
PocketCasts: https://pca.st/IQVa
Stitcher: https://bit.ly/30uxOZR
PlayerFM: https://bit.ly/2yfCu9P
ListenNotes: https://bit.ly/2SINTbG
PodTail: https://bit.ly/2yfDgDL
Oni Dino's YouTube "Gayme Married": https://bit.ly/2JK21xd
Oni Dino's Twitter: @Oni_Dino
Oni Dino's Insta: Oni__Dino
Galen's Twitter: @mobius087
Galen's Insta: true_mobius
HUGE thank you to Headphones of Listening for NEP's intro music! Check him out on soundcloud!
Ending song by Clay Kramer on YouTube!
Leave a Reply