[Nintendo Everything Podcast] – episode #8 – Awful Nintendo Guests at a Party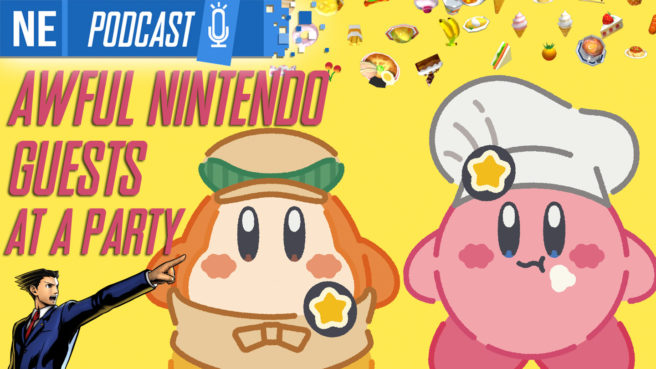 What up, kids and squids?!
This week on NEP we've got lots of news on the roaring success of Smash and Switch, JRPGs galore, and Oni and Galen duke it out over OPINIONS. Plus, an awesome listener email asking whom we would invite to a Xmas party. Would you rather be at Oni's party or Galen's?
Check out the timestamps and our email address below where you can send us your listener mail!
Timestamps:
00:19 – Kids & Squids!
01:29 – Soulja Ploy to steal your money
03:14 – Adventure Log: OPUS –The Day We Found Earth-
05:24 – Adventure Log: Super Mario Party & Use Your Words
09:23 – Adventure Log Foreshadowing with GRIS
10:13 – Smashing sales records
18:11 – Chocobo's Mystery Dungeon: Every Buddy! and Galen's Mystery Dungeon: In Japan!
21:07 – JRPGs galore with Octopath, Bravely and a new series that are all possibly in production
26:22 – Galen talks himself into a circle about Travis Strikes Again. Oni throws hard shade
32:46 – Custom Robo successor, Synaptic Drive, takes off into full production
35:28 – A new segment is introduced: "Additional DLC"!
39:19 – Listener Mail: Awful Nintendo guests at an Xmas dinner party. Galen chooses characters for convenience. Oni chooses absolute snacks for beauty.
44:36 – Our question to you! Games for winter and holidays
45:24 – What's coming soon, and next week: a year in review by Oni & Galen.
Additional DLC:
Galen: Spider-Man: Into the Spider-Verse
Send us an email and we'll discuss it!
NintendoEverythingPod [at] gmail [dot] com
Listener Bonus: Escape the cold by giving us a ☆5 STAR☆ iTunes review, likes and comments on YouTube, and share the Spotify playlist with your Nintendo-loving buddies!
YouTube
iTunes
https://itunes.apple.com/podcast/nintendo-everything-podcast/id1441241130?mt=2
Spotify
https://open.spotify.com/show/0zifaLm4st7KtUzDEojWBh
Direct Download
News Discussed
Follow Us, We Tweet!
A HUGE thank you to Headphones of Listening for NEP's intro music!
Check him out on soundcloud!
This week's outro music is "Tantal (Night)" from the Xenoblade Chronicles 2 OST.
Thanks for listening!!
Leave a Reply