[Nintendo Everything Podcast] – episode #80 – The Wonderful 101 giveaway, and Paper Mario: The Origami King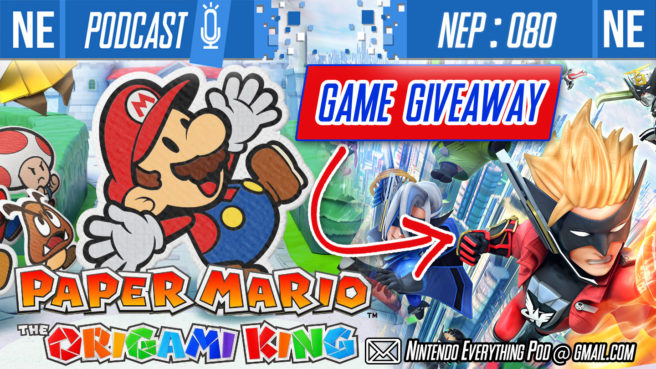 Hello my origami listeners! This week on Nintendo Everything Podcast, we're giving away a steam code for The Wonderful 101 Remastered to one lucky listener at random! Check out the opening of the episode for details on how to enter.
Moving on, Oni Dino critiques a Square-Enix free of Tetsuya Nomura in the Bravely Default II demo. Then, in the news, we cover the announcement of Paper Mario: The Origami King and analyze the trailers to see if we really are getting partners or not. Oni Dino notices something from the Japanese trailer that leans toward yes, and Galen has ideas on expanding the battle system. Afterward, it's rumor time with Pikmin 3 Deluxe and a handful more of E3-style events. Finally, general industry chat on Microsoft's monthly "Xbox 20/20" digital event leading up to the Xbox Series X's launch, Ubisoft redefining "gameplay", the Unreal Engine 5 reveal, and Ghost of Tsushima's extended gameplay trailer.
Check out links and timestamps below, and come hang out.
If you're enjoying NEP, please consider giving us a 5 star review on Apple Podcasts, and share us with a friend. It's incredibly helpful in getting us exposed to new listeners through algorithms, so we would greatly appreci0ate your help. Thank you for listening!
Timestamps:
10:30 – Adventure Log: Galen's miscellaneous.
16:50 – Adventure Log: Oni Dino's Bravely Default II demo.
37:16 – News: Paper Mario: The Origami King announced!
49:12 – News: Pikmin 3 Deluxe rumors.
52:37 – News: Ubisoft Forward, Indie Live Expo, Guerilla Collective.
1:00:40 – News: General industry wrap-up: Xbox 20/20, Unreal Engine 5, Ghost of Tsushima.
1:28:06 – Additional DLC
1:32:19 – Listener Mail: Star Ocean 4 is GOOD.
Additional DLC:
Business inquiries and listener mail contact:
[email protected]gmail.com
#nintendopodcast #gamingpodcast #podcast
YouTube
Apple Podcasts / iTunes: https://apple.co/2xLl0C5
Spotify: https://spoti.fi/2Gdgoch
Direct Download
PocketCasts: https://pca.st/IQVa
Stitcher: https://bit.ly/30uxOZR
PlayerFM: https://bit.ly/2yfCu9P
ListenNotes: https://bit.ly/2SINTbG
PodTail: https://bit.ly/2yfDgDL
Oni Dino's YouTube "Gayme Married": https://bit.ly/2JK21xd
Oni Dino's Twitter: @Oni_Dino
Oni Dino's Insta: Oni__Dino
Galen's Twitter: @mobius087
Galen's Insta: true_mobius
HUGE thank you to Headphones of Listening for NEP's intro music! Check him out on soundcloud!
Leave a Reply