[Nintendo Everything Podcast] – episode #84 – Intervention: Paper Mario: The Origami King and more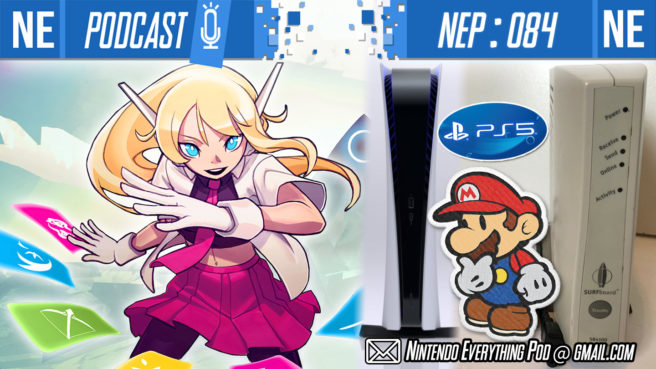 Hello, my cardboard cuties! This week on Nintendo Everything Podcast, Oni Dino goes deeper into Xenoblade, and Galen finally plays a game made for him: One Step From Eden. We analyze the new info we got on Paper Mario: The Origami King, Oni Dino resurrects his brilliant idea for a Final Fantasy style Mario RPG, we discuss the weird Google Stadia leak of Gods & Monsters (tentative title), and we also cover the PS5 event for good measure. Why does it look like that?
Check out links and timestamps below, and come hang out.
If you're enjoying NEP, please consider giving us a 5 star review on Apple Podcasts, and share us with a friend. It's incredibly helpful in getting us exposed to new listeners through algorithms, so we would greatly appreciate your help. Thank you for listening!
Timestamps:
05:46 – Adventure Log: Clubhouse Games: 50 Games in 1
15:42 (actually 21:14) – Adventure Log: Xenoblade Definitive Edition
38:26 – Adventure Log: One Step From Eden
50:41 – News: Paper Mario: The Origami King
1:06:22 – News: Bunch of indie games announced for Switch this week. Let's highlight one: Windbound.
1:12:25 – News: Early dev build of Gods & Monsters leaks via Google Stadia.
1:22:39 – Sony Dino: PS5 Reveal event.
x – Additional DLC
x – Listener Mail: The DEFINITIVE ranking of Xenoblade games, probably.
Additional DLC:
Business inquiries and listener mail contact:
#nintendopodcast #gamingpodcast #podcast
YouTube
Apple Podcasts / iTunes: https://apple.co/2xLl0C5
Spotify: https://spoti.fi/2Gdgoch
Direct Download
PocketCasts: https://pca.st/IQVa
Stitcher: https://bit.ly/30uxOZR
PlayerFM: https://bit.ly/2yfCu9P
ListenNotes: https://bit.ly/2SINTbG
PodTail: https://bit.ly/2yfDgDL
Oni Dino's YouTube "Gayme Married": https://bit.ly/2JK21xd
Oni Dino's Twitter: @Oni_Dino
Oni Dino's Insta: Oni__Dino
Galen's Twitter: @mobius087
Galen's Insta: true_mobius
HUGE thank you to Headphones of Listening for NEP's intro music! Check him out on soundcloud!
Leave a Reply