[Nintendo Everything Podcast] – episode #85 – Snap some Pokemon and brush your teeth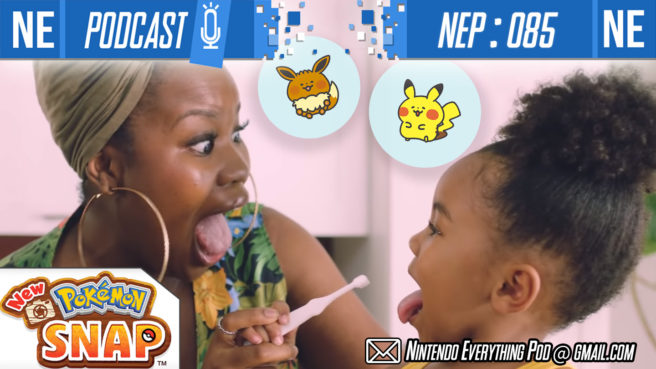 This week on Nintendo Everything Podcast, pigs are flying because New Pokemon Snap got announced. That's not all the Pokemon Presents video graced us with—brushing our teeth is finally solved with Pokemon Smile. In other news, Kingdom Hearts continues to be an embarrassing nightmare with Memory of Melody. And finally, Oni Dino and Galen lay down some EA games predictions and ARMS character predictions for Super Smash Bros. Ultimate's Fighter Pass volume 2. In our game analysis segment, we cover a great and overlooked indie game called Bloodroots, and some extra tidbits on Xenoblade, One Step From Eden, and even Fitness Boxing.
Check out links and timestamps below, and come hang out.
If you're enjoying NEP, please consider giving us a 5 star review on Apple Podcasts, and share us with a friend. It's incredibly helpful in getting us exposed to new listeners through algorithms, so we would greatly appreciate your help. Thank you for listening!
Timestamps:
03:50 – Adventure Log: Bloodroots
30:17 – Adventure Log: Bit of Xenoblade and bit of Fitness Boxing
39:15 – Adventure Log: One Step From Eden
46:29 – News: Pokemon Presents: Pokemon Smile, Pokemon Café Mix, New Pokemon Snap, and more.
1:07:38 – News: Kingdom Hearts: Memory of Melody furthers embarrassing storytelling
1:11:32 – News: ARMS character and move-set predictions
1:19:45 – News: EA game predictions
1:28:53 – Additional DLC and Listener Mail combined: Celebrating Black creators with Adam Kareem's "Protodroid DeLTA"
Additional DLC:
Business inquiries and listener mail contact:
#nintendopodcast #gamingpodcast #podcast
YouTube
Apple Podcasts / iTunes: https://apple.co/2xLl0C5
Spotify: https://spoti.fi/2Gdgoch
Direct Download
PocketCasts: https://pca.st/IQVa
Stitcher: https://bit.ly/30uxOZR
PlayerFM: https://bit.ly/2yfCu9P
ListenNotes: https://bit.ly/2SINTbG
PodTail: https://bit.ly/2yfDgDL
Oni Dino's YouTube "Gayme Married": https://bit.ly/2JK21xd
Oni Dino's Twitter: @Oni_Dino
Oni Dino's Insta: Oni__Dino
Galen's Twitter: @mobius087
Galen's Insta: true_mobius
HUGE thank you to Headphones of Listening for NEP's intro music! Check him out on soundcloud!
Ending song by BotanicSage on YouTube!
Leave a Reply