[Nintendo Everything Podcast] – episode #92 – Switch's momentum, game dev darkness, Cold Steel appeal (feat. Barry Carenza)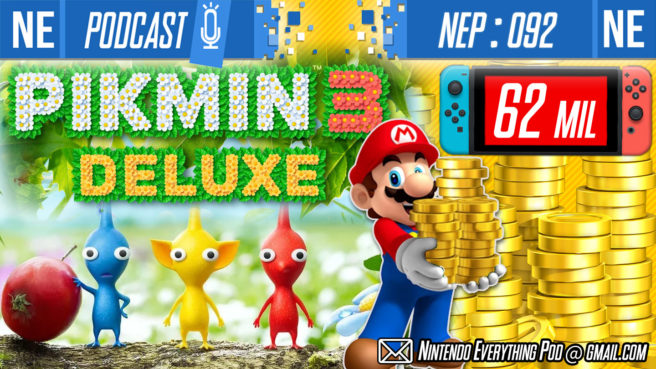 This week on Nintendo Everything Podcast, special guest Barry (Goodman?) is back to chat with Oni Dino and Galen in this extra-long, bonus episode! Nintendo Switch is at 62 million units sold, but will they keep the momentum with the PS5 and Xbox Series X coming soon? What will happen to third-party support moving forward and how should Nintendo prepare for it? In the Adventure Log, Barry elaborates on the appeal of the Legend of Heroes series and the Trails of Cold Steel sub-series and why the third entry is a good jumping-in point, and Galen tries out shell-swapping his Switch Pro Controller. In the news, Pikmin 3 Deluxe was announced, bringing up the topic of full-priced Wii U ports; Blizzard employees rally for fair pay and better working conditions; and Aeon Must Die has serious allegations against it from the original devs.
It's a big episode—check out links and timestamps below and come hang out.
If you're enjoying NEP, please consider giving us a 5 star review on Apple Podcasts, and share us with a friend. It's incredibly helpful in getting us exposed to new listeners through algorithms, so we would greatly appreciate your help. Thank you for listening!
Timestamps:
– 07:03 – Adventure Log: Oni Dino and Barry talk Trails of Cold Steel series, and jumping in at the third entry.
– 33:52 – Adventure Log: Galen busting open his Switch pro controller and replacing the shell.
– 57:53 – News: Switch is now the 2nd most successful home console by Nintendo, 4th most successful overall Nintendo console. Where do we go now that we're half-way through the lifecycle? What about with the next generation right around the corner?
– 1:27:46 – News: Pikmin 3 Deluxe coming to Switch. $60 Wii U ports, no bundles, general stinginess from Nintendo.
– 1:45:24 – News: No More Heroes 1 rated for the Switch in Taiwan.
– 1:48:48 – News: Blizzard employees rally together for better working conditions and benefits. A general discussion, also, on working in the game industry and how low-level employees are exploited to do so.
– 2:03:01 – News: Aeon Must Die allegations from the original developers, Limestone Games.
– 2:13:41 – Additional DLC & Listener Mail
Additional DLC:
– The myth of Ireland's two greatest warriors / TedEd (Paper Panther)
https://youtu.be/lawx8YoLEIY
– Ghost of Tsushima, Kurosawa, and the political myth of the samurai
https://bit.ly/2DKBekS
– Talkcast Podshow: Ghost of Tsushima w/ Gaijin Goomba
https://youtu.be/KqKf0PD8PxE
Business inquiries and listener mail contact:
#nintendopodcast #gamingpodcast #podcast
YouTube
Apple Podcasts / iTunes: https://apple.co/2xLl0C5
Spotify: https://spoti.fi/2Gdgoch
Direct Download
PocketCasts: https://pca.st/IQVa
Stitcher: https://bit.ly/30uxOZR
PlayerFM: https://bit.ly/2yfCu9P
ListenNotes: https://bit.ly/2SINTbG
PodTail: https://bit.ly/2yfDgDL
Oni Dino's Twitter: @Oni_Dino
Oni Dino's Insta: Oni__Dino
Galen's Twitter: @mobius087
Galen's Insta: true_mobius
HUGE thank you to Headphones of Listening for NEP's intro music! Check him out on soundcloud!
Ending song by BotanicSage on YouTube!
Leave a Reply