[Nintendo Everything Podcast] – episode #96 – Crisis Core: Breath of the Wild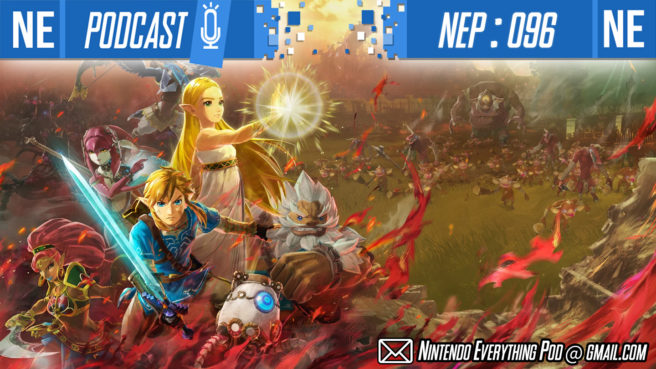 This week on Nintendo Everything Podcast, Galen's back and he gives us nothing. Meanwhile, Oni Dino can hardly contain his excitement for Hyrule Warriors: Age of Calamity. We analyze the trailer a bit for sneak peeks and have some fun wondering what the game could be like, based on our experiences with Hyrule Warriors and Breath of the Wild. Addition, we feign our surprise at No More Heroes 3's delay, we aren't talking about Ubisoft, Galen's creative spark is awoken by RPG Maker, Oni Dino boomerangs on Manifold Garden, Gleamlight is dim, and more.
Check out links and timestamps below and come hang out.
If you're enjoying NEP, please consider giving us a 5-star review on Apple Podcasts, and share us with a friend. It's incredibly helpful in getting us exposed to new listeners through algorithms, so we would greatly appreciate your help. Thank you for listening!
Timestamps:
– 12:26 – Adventure Log: Manifold Garden
– 25:09 – Adventure Log: RPG Maker MV
– 37:15 – Adventure Log: Gleamlight
– 53:24 – News: Pocky & Rocky resurrected like a yuurei, No More Heroes 3 officially delayed, Hyrule Warriors: Age of Calamity
– 1:18:18 – Additional DLC
– 1:23:09 – Listener Mail: Accessibility with sliders in games
Additional DLC:
– Ubisoft Spent Years Protecting Mental And Physical Abusers (The Jimquisition)
https://youtu.be/BRhYT5Lgp98
– The Longest Johns
https://www.youtube.com/user/thelongestjohns
Business inquiries and listener mail contact:
#nintendopodcast #gamingpodcast #podcast
YouTube
Apple Podcasts / iTunes: https://apple.co/2xLl0C5
Spotify: https://spoti.fi/2Gdgoch
Direct Download
PocketCasts: https://pca.st/IQVa
Stitcher: https://bit.ly/30uxOZR
PlayerFM: https://bit.ly/2yfCu9P
ListenNotes: https://bit.ly/2SINTbG
PodTail: https://bit.ly/2yfDgDL
Oni Dino's Twitter: @Oni_Dino
Oni Dino's Insta: Oni__Dino
Oni Dino's interactive podcast on GetVokl: https://bit.ly/3i7jjo6
Galen's Twitter: @mobius087
Galen's Insta: true_mobius
HUGE thank you to Headphones of Listening for NEP's intro music! Check him out on soundcloud!
Ending song by Celestial Fury.
Leave a Reply