Nintendo on Wii U, amiibo, digital download, NES Classic Edition sales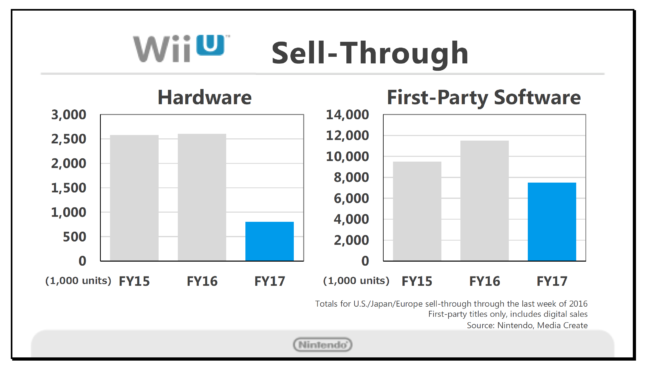 This information comes from Nintendo president Tatsumi Kimishima…
This slide compares sell-through for Wii U hardware and first-party packaged software in Japan, the U.S. and Europe from April 2016 through the last week of the calendar year, compared with the same period over the past two years. We significantly decreased the shipping volume for Wii U this fiscal year compared to the fiscal year ended March 2016 and set our sales expectations at 800,000 units. As a result, hardware sell-through is down significantly compared to the previous two years. Also, there were fewer new titles this year, resulting in reduced trends in software sell-through compared to previous periods, but both the hardware and software results are largely in alignment with our expectations.

This figure shows the sell-in for amiibo figures compared to the previous period. In the previous period, we sold many amiibo, particularly in the Super Smash Brothers series, reaching total sell-in of approximately 20.5 million units. Sell-in for this period was approximately 6.5 million units.

This figure shows the download sales of digital content for Nintendo 3DS and Wii U up until the third quarter compared to the previous period. Sales during this period only reached 23.1 billion yen, falling short of the previous period, which saw the release of more downloadable content, including content for Mario Kart 8 and Super Smash Bros. for Wii U and Nintendo 3DS.

In November last year, we brought back the nostalgic Famicom and NES home consoles in palmsized versions and shipped the entire quantity of Nintendo Classic Mini Family Computer units we initially prepared for each market. We apologize to our consumers and retail partners for the inconvenience caused by product shortages. Some parts require time to procure, but we are working to increase production. We also see the nostalgic interest in these products as an opportunity to draw consumers' attention to our latest game system, Nintendo Switch.
Leave a Reply