Paper Mario: The Origami King dev on decision to feature stationery bosses, timer mechanic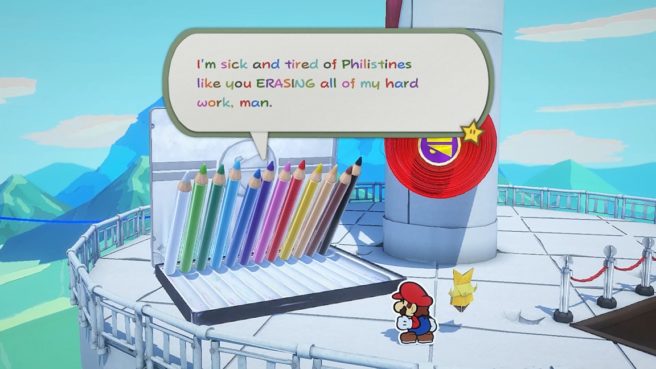 Paper Mario: The Origami King has a number of bosses known as "Legion of Stationery". These enemies come in the form of pencils, sticky tape, and more.
German outlet PCGames recently asked producer Kensuke Tanabe about the decision to have these bosses be regular objects instead of "normal" bad guys. Regarding that, Tanabe mentioned:
"The Paper Mario series revolves around paper. We landed on the stationery idea when we were thinking about various concepts that are related to paper, but don't have anything to do with origami. We thought that this slightly strange depiction of realistic stationery with no anthropomorphic features would be a great visual hook for the game. In the end, 'normal' isn't all that exciting, isn't it?"
Tanabe also weighed in on having a constant timer mechanic during battles. He shared the following on that front:
"When we implement a new or unique system into a game, we have no idea if the players will like or not until the game is released. As such, there's always a certain amount of risk when implementing new systems. However, when you try to avoid such risks, it's impossible to surprise or impress players, in my opinion. When you fail, you will be criticized harshly – something I've experienced myself lately. Still, it's one of my core principles as a game designer to take on challenges, even if they're associated with certain risks."
On the topic of combat, Tanabe has indicated that he prefers introducing new battle systems with each of his games. You can read more about that here.
Thanks to Matt for the native translation assistance.
Leave a Reply