Reggie on his decision to retire, close relationship with Iwata, shaking up the industry with Wii and DS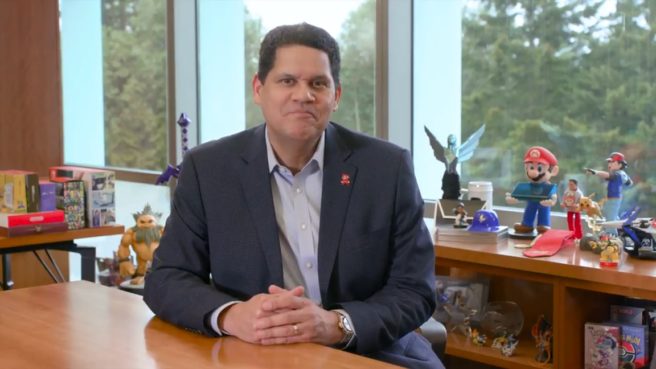 GameDaily recently caught up with former Nintendo of America president Reggie Fils-Aime. Reggie retired from the company earlier this year after more than fifteen years with the company.
Reggie had some interesting things to say during the interview, and spoke about his decision to retire, his relationship with the late Nintendo president and CEO Satoru Iwata, and how the company wanted to shake up the industry with Wii and DS rather than going with "more horsepower and more accurate visual representation."
We've rounded up these comments from GameDaily's interview below. You can find the full discussion here.
On his decision to retire…
"In terms of really thinking about legacy at Nintendo, it became crystal clear to me with the passing of my dear friend Satoru Iwata. It just reinforces how fleeting our existence is. It also reinforced for me the legacy that he had built, and he had created for the company. And that really drove me to be introspective around, 'So what's the legacy that I want to build, that I want to leave? So I would say that event certainly crystallized for me the importance and motivated me to be clear and intentional in what I wanted to do. In terms of the timing, again, the business needed to be healthy and set for positive performance and the organization needed to be ready, and those two came together earlier this year. So, that's what drove the timing [for my retirement]."
On Satoru Iwata…
"I learned so much from, Mr. Iwata and I'll share a story. When I was being recruited for the opportunity to join Nintendo, I asked as part of the process to speak with Mr. Iwata. It was not going to be part of the process and as I learned later, it actually was a bit of a disruption in the process. Imagine from Nintendo's perspective, 'Who's this candidate thinking that he can spend time with our global president. This is not a role that is going to be based in Japan. Why does he want to talk with him?' I mean, you can imagine the types of conversations that must have been happening. But in the end they agreed for me to speak with Mr. Iwata before I would decide whether to accept the role.
"It was set up to be a half-hour conversation and it ended up running much longer than that. And it really sets the stage for the type of business and personal relationship we would have. We would talk all the time. He was gracious in sharing his perspective. He was tremendously accommodating in hearing a unique point of view from me, a person who had no history in the video game business other than as a player. But [he valued] my perspective because I brought a consumer sensibility. I brought a Western business sensibility. And the relationship that he and I had for almost 11 years, it was truly special and just, his openness with me and the things that we were able to do truly together, were just magical."
More on Iwata, Miyamoto, the Wii, and DS…
"I would absolutely agree that intellectual curiosity is a key tenet with the leadership at Nintendo. [They (Iwata, Shigeru Miyamoto) wanted] to understand why a person feels the way they do, why you react a particular way, why you believe what you believe."
"… with the Wii, it's tough for people to remember, but back in the early 2000s, only about one out of every three people played video games. Also back then, the industry was stagnant and in key markets like Europe and Japan, software sales were actually in decline. And you know, clearly the company thought deeply about this. And to be clear, the thinking happened before I joined the company. The company saw the stagnation of the industry as a result of too much complexity, too many sequels. [They saw] the same general game, but now it's version five or six, the lack of innovation and the lack of fun."
"That was their diagnosis. Competing companies saw the answer in more horsepower and more accurate visual representation. And you can clearly see the divergence in the Nintendo DS, for example, versus the PlayStation Portable. You can see divergence and strategy in the Wii, versus what Sony and Microsoft executed in their machines. And so absolutely, intellectual curiosity, asking tough questions to get at the heart of a business problem and proposing solutions that are based on what the issues are versus what your belief set is, is clearly something that the company has done well."
Leave a Reply