Rise and Shine out on Switch next week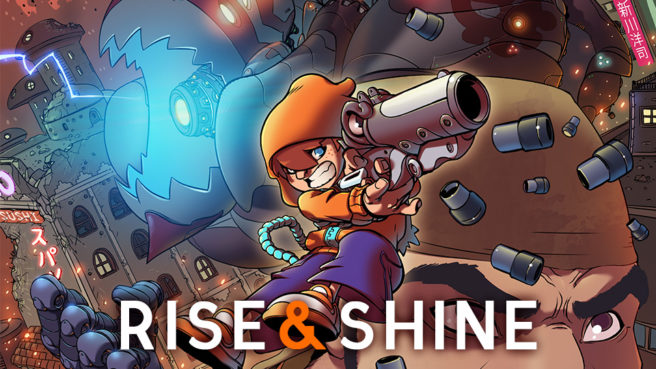 Earlier this year, we heard that Adult Swim Games and Super Mega Team would be bringing Rise and Shine to Switch. A release date has now been set, and it's coming pretty soon. The eShop shows that Rise and Shine will be available on September 27.
Here's an overview and trailer for Rise and Shine, "a high lethality puzzle game with a bullet-hell twist":
Shoot Fast, Think Faster

Rise & Shine is a high lethality puzzle game with a bullet-hell twist. Pop your enemies' heads with next-level strategy and cunning. Pull off the perfect boss fight with careful planning and execution. And guide your advanced projectiles to open new areas.

Get Ready to Respawn

Saving Gamearth won't be easy — prepare to dash through flurries of missiles and avoid unseen traps as you fight to prevent its destruction. It's going to take all you've got to stay alive in the face of deadly robot armadas, bosses, giant death wheels, and even zombies. You're going to die. A lot. Probably.

As Difficult As YOU Want

Play Rise & Shine like you've never played before with new game modes that ensure each playthrough feels just right.

– Normal Mode — Take it easier with a slightly less intense experience
– Hard Mode — If you're daring, see how long you'll survive in this new, more intense experience
– Turbo Mode – Complete the game once to unlock a faster, authentic bullet-hell experience that you can combine with either Normal or Hard Mode

Switch up your play throughs to ensure that the respawns NEVER end!
Rise and Shine can be pre-loaded on the eShop now. Pricing is set at $14.99.
Source: Switch eShop
Leave a Reply